With over three thousand stores and 61 streets, Istanbul's Grand Bazaar is unlike any place I've ever been. It's one of the world's largest covered markets, and a visit is guaranteed to leave you exhilarated, frustrated and, above all, disoriented.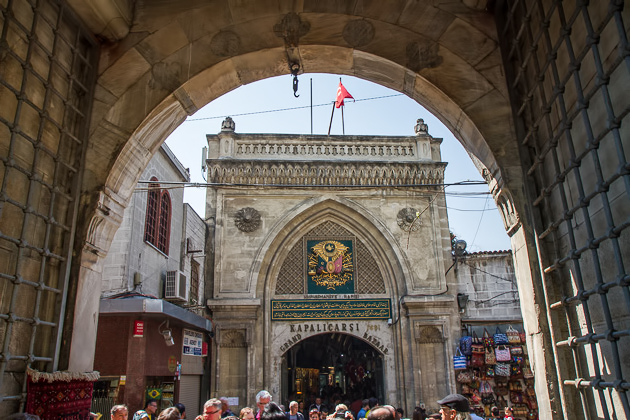 In the Grand Bazaar, it's not so much "whether" you become lost but "when". The jam-packed streets curve confusingly and the shops all look the same. There's no sky or sun to point the way, and the mad jumble of people, whether they're shoving by or trying to win your business, will spin you around until you've lost your bearings. Enter a store, engage in a bit of haggling, spend too long admiring an oil lamp, and it's already too late. Good luck trying to remember the direction you came from, or where you were going.
Immediately after the Conquest of Constantinople, the victorious Ottomans set about Turkifying their new capital. The Hippodrome was razed, churches became mosques, and the Grand Bazaar was established near the newly established university in Beyazit. Despite recurrent earthquakes and fires, the bazaar grew and thrived, and was soon famous across Europe as the Mecca of shopping.
Today, an estimated 400,000 people visit the market daily. Over 27,000 people are employed within its walls. The bazaar, in almost every meaningful sense of the word, is a city unto itself. There are restaurants, barbers, banks, a police station, even a mosque — everything a decent-sized town of nearly 30,000 might need to sustain itself.
We love the Grand Bazaar, and invent an excuse to dart inside anytime we find ourselves nearby. Of course, in the wrong mood, or on a Saturday when the number of visitors increases dramatically, it can be stressful. And though the great majority of vendors are respectful, a few are unbearably pushy. True bargains are very hard to find, if they exist at all; we found identical nargiles in nearby Tahtakale for less than half the price as in the Grand Bazaar. And if you're not proficient in the art of haggling, you'll leave with either empty hands or an empty wallet.
But somehow, none of that subtracts from the experience of visiting. You don't have to buy anything to have fun, and we almost never entered the gates with the intention of shopping. We'd go to explore the hans, have lunch, watch gold-makers and silver-smiths ply their trades, and lose ourselves in the maze. Photo opportunities are everywhere, and many of the shopkeepers are happy to chat even if you're clearly not planning on buying. We were once invited to try some çiğ köfte one guy's wife had made for his lunch. And a carpet seller took us to the top floor of his shop for a view of the roof. Turkish people, in general, are friendly and welcoming to strangers, and this seems to be even more the case within the Grand Bazaar.
–Rent An Apartment In Istanbul