Sunday Morning in Kumkapı
The neighborhood south of the Grand Bazaar, bordering the Sea of Marmara, goes by the entertaining name of Kumkapı. Although it doesn't lay claim to any major sights or fabulous mosques, we enjoyed the quiet Sunday morning we spent here. And now, we can finally strike "Attend an Armenian Apostolic Mass" from our bucket lists. Another childhood dream accomplished!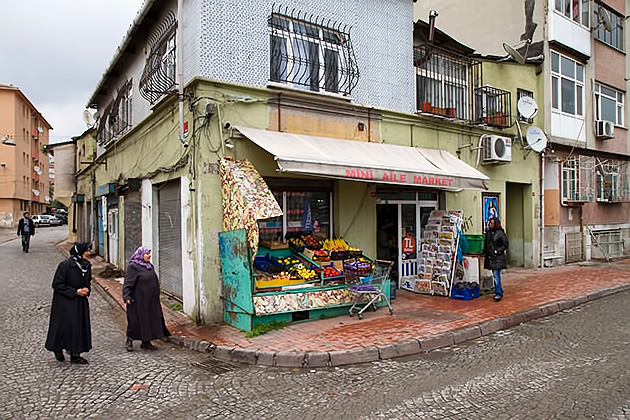 Despite the rocky historical relationship between Turkey and its landlocked neighbor to the east, Istanbul has always been home to a sizable population of Armenians; today the number is around 60,000, and many of them live in Kumkapı. Armenians are a strongly Christian people, and part of the reason we chose a Sunday morning to explore the neighborhood was to sit in on mass at the church of Surp Asdvadzadzin.
Armenia is one of the world's oldest Christian nations; the first country in the world, in fact, to have made Christianity its official state religion. Despite the moderate number of worshipers at the large church, originally built in 1641, we enjoyed the atmosphere: the heavy use of incense, the small choir in front of the altar, and the priest almost yelling at his congregation in a language that sounds a bit like Greek.
After sneaking out of the church, we wandered through a maze of streets packed with fish restaurants. This is one of the most popular evening hangout zones for Istanbullus, who spend their nights eating fish, drinking rakı, listening to music, and having impromptu dance parties around their tables. We swore to return on a Saturday night, because if the mess on Sunday morning is any indication, it must be a good time.
We found a couple other churches in Kumkapı, including the massive Greek Orthodox church of Panaya Elpeda. Built in the 15th century, this looked incredible, but was unfortunately closed to visitors. There was a woman at the gate, but she wasn't about to consider letting us in. We had to lay on the sweet talk pretty thick, before she would even allow us to snap a quick photo.
Location of the Surp Asdvadzadzin
–Book Your Istanbul Hotel Here