Gazi Park and Bursa's Covered Market
Squeezed between two amazing mosques and the covered market, Gazi Park is the heart of Bursa, and was the logical place to begin our exploration of the city.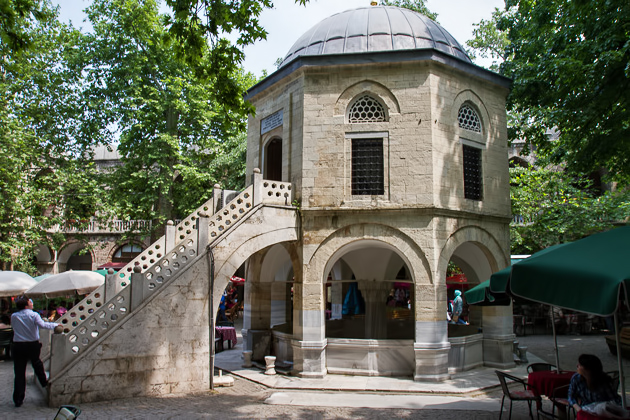 The Ottoman Empire is generally thought to have emerged in 1299, beginning with the ascension of Osman Gazi. Osman united a number of Turkish emirates and, just before his death in 1326, was able to capture Bursa (then the Byzantine city of Prousa). It was the first great military victory of the nascent empire, and far from the last.
Bursa enjoyed its golden years during the reign of Osman's son, Orhan, who promoted it to capital of his young empire. So it was no surprise to find a mosque here named in his honor. The Orhan Gazi Camii was built in 1339, in the center of the city. Unfortunately, due to funerary proceedings, we weren't able to spend more than a couple seconds inside, and instead walked a few meters over to another ancient mosque.
The Ulu Camii was built in 1399 by Orhan's grandson Bayezid I, who went by the name of "Yıldırım" ("Thunderbolt"). He earned this nickname for his military acumen, which was especially evident during one of the greatest Ottoman victories of all time. In the 1396 Battle of Nicopolis, Bayezid's men routed a combined force of Germans, French, Bulgarians, Italians, Romanians and Hungarians: basically the entire Christian army of Europe.
Before the battle, Beyazid had vowed to erect twenty mosques in Bursa should he emerge victorious. Perhaps he didn't expect to win, because instead of the twenty promised mosques, he ended up building just one. But he gave it twenty domes, apparently hoping nobody would remember his exact wording… or at least dare to question him on it. The resulting Ulu Camii is one of the more architecturally interesting mosques we've seen. The twenty small domes are arranged in a 4×5 grid, lending the interior a sense of grandiosity.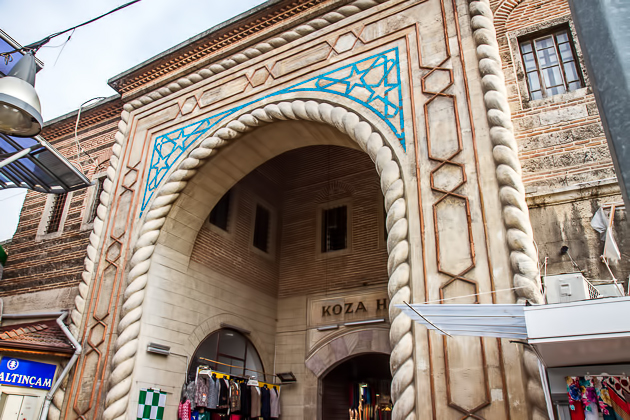 Just outside of the Ulu Camii is the entrance to the Koza Han, or "Cocoon Hall". Bursa was once the final stop on the Silk Road from China and, throughout the centuries, the fine fabric has been the focus of this market. Hundreds of vendors in the beautiful old han concentrate on silk, with prices that are more than reasonable.
The Koza Han is connected to Bursa's bewildering covered bazaar, which extends in all directions through halls, into courtyards, down underground, along tiny passages and onto upper floor terraces looking down on tea gardens. In terms of size and confusion, Bursa's bazaar is nearly the equal of Istanbul's. The main difference? Things are much cheaper. We picked up a coffee grinder for a third of the price we'd seen in the Grand Bazaar. In retrospect, we should have done all of our souvenir shopping during our stay in Bursa.
Locations on our Bursa Map: Orhan Gazi Camii | Ulu Camii | Koza Han