The Great Palace Mosaic Museum
Not much remains of the Great Palace of Constantinople, built in 330 AD and home to Byzantine emperors for over 800 years. After taking the city in 1453, the Ottomans reduced the palace to rubble and eventually erected the Blue Mosque on top of it. But not all was lost. Excavations in the 1920s uncovered some brilliant mosaic patterns which had once decorated the palace's floors and walls. And these have been preserved in the Great Palace Mosaic Museum.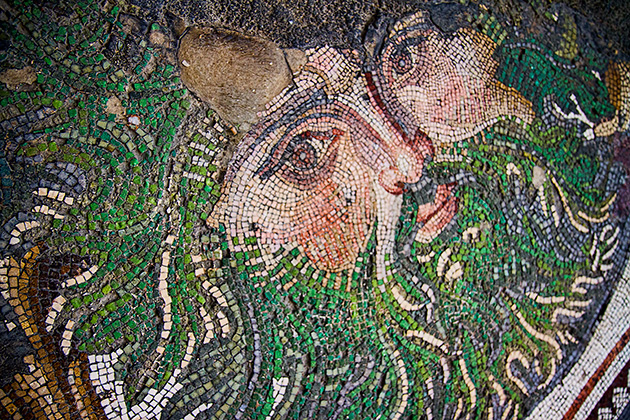 The entrance to the museum is hidden in the midst of the bustling Arasta Bazaar and we walked right past it a couple times, distracted by the colorful carpets and souvenirs. But once inside, the place is fascinating. As far as possible, the mosaics of the palace have been left where they were found. It's estimated that there were up to 80 million individually-laid cubes of terracotta and glass. Only a small fraction has survived the tumult of the centuries, but it's more than enough to impress.
The scenes represented in the mosaics are both natural and mythical, with bears and monkeys joining griffins and chimeras in the patterns. There are fruits, floral scenes, and humans engaged in hunting, fighting and playing. Placards around the museum do an excellent job of explaining each surviving mosaic, enhancing the experience dramatically.
Great Palace Mosaic Museum – Official Website
Other great mosaics we visited on Sicily: Villa Romana del Casale