Popularly known as the Blue Mosque thanks to the color of the Iznik tiles lining its walls, the Sultan Ahmed Mosque dominates Istanbul's skyline with six minarets. Completed in 1616, the mosque is still used for worship, but due to its grandeur and location, has become a popular tourist attraction.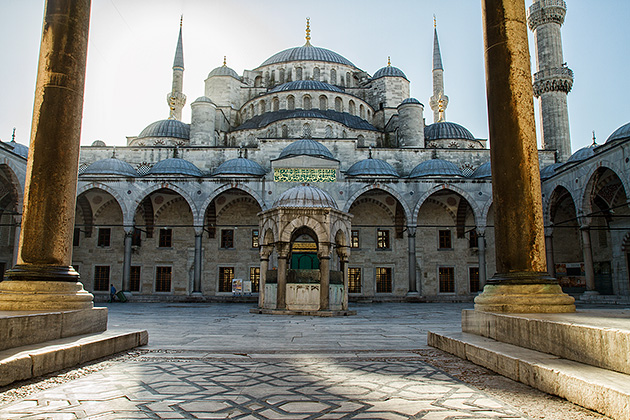 From the moment it was proposed by Sultan Ahmed I, the Blue Mosque was contentious; not only did it require demolishing the palaces of powerful Ottoman ministers, but the unusual number of minarets was considered an effrontery. Four had long been the accepted maximum, with only the Grand Mosque in Mecca claiming six. But Sultan Ahmed was a man used to getting his way, and refused to budge. Luckily a compromise was found before any blood was shed: another minaret was simply added to Mecca's mosque.
The Blue Mosque is stunning, especially when viewed from its courtyard. Perfectly symmetrical and of jaw-dropping size, the curved domes, rounded and hexagonal turrets and towering minarets work with the courtyard's arches to create a profile of sublime beauty. It's hard to imagine the impact such a sight must have made on visiting 17th-century dignitaries… or, perhaps it's not at all hard to imagine. Their reaction must have been the same as mine: speechless awe.
We removed our shoes and stepped inside. Indoors, the mosque is not as cavernous as it would appear from the exterior, but it is exquisite. Over 20,000 blue Iznik tiles decorate the walls, making the room glow, and the central dome is spacious enough to house a large family of pigeons. Four gargantuan pillars called the Elephant's Feet support half-domes, and the plentiful light filtering in through stained-glass gives the mosque a bright and spacious air.
We loved our visit to the Blue Mosque, and were surprised to be in and out within twenty minutes. There was no wait in line and no admission charge, though a small donation is appreciated, making this surely one of the most magnificent "quick and easy" sights we've ever visited.
The Blue Mosque – Website
–Rent An Apartment Close To The Blue Mosque. Click Here!!!