Located in the neighborhood of Çarşamba, just up the road from the Yavuz Selim Camii, the Fethiye Museum preserves some of the best Byzantine mosaics in Istanbul. It's small and difficult to reach, so most tourists skip right over it in favor of the similar and better-known Chora Museum.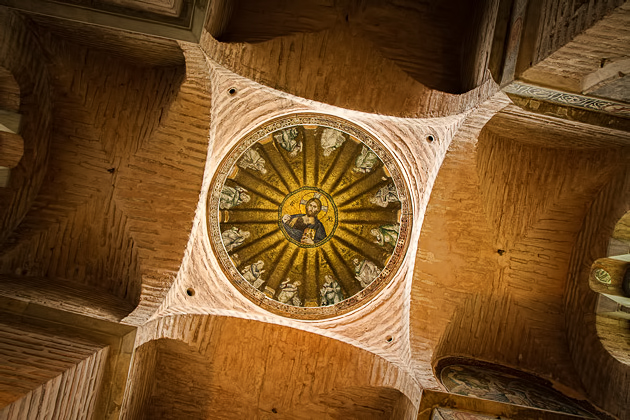 The Church of Theotokos Pammakaristos (All-Blessed Mother of God) was built sometime in the 11th century by Byzantine Emperor Michael VII Ducas. By the time of the Ottoman conquest, the Pammakaristos had become one of Constantinople's most important Orthodox churches and, sensitive to the feelings of their new Greek citizens, the Ottomans initially left it alone. They even made it the temporary seat of the Greek Orthodox Patriarchate. But in 1592, to celebrate of the Ottoman annexation of Georgia and Azerbaijan, the church was finally converted into the Fethiye Mosque.
During renovations in the 1950s, beautiful 14th-century mosaics were uncovered in the parekklesion, or side chapel, and these became the focus of a museum which opened in 2006. Under the dome, visitors can admire a depiction of Christ Pantokrator ringed by twelve prophets from the Old Testament. There's also a large mosaic panel of Jesus's baptism, and representations of various Biblical saints, including a deesis with Mary and John the Baptist.
The Fethiye Museum is a like a delicious Byzantine Mosaic hors d'oeuvre, before the more filling main course served up at the nearby Chora Museum. The mosaics in the Fethiye aren't as expansive as those of the Chora, but the experience of visiting is more pleasant. We were the only ones inside the church on the Thursday afternoon we chose for our trip, and able to explore in peace.
Fethiye Museum – Official Website
Related Post: The Grand Palace Mosaic Museum in Istanbul