Allahaısmarladık, Istanbul
It didn't seem possible. Had our 91 days in Istanbul really come to an end? I couldn't believe it, so I opened my journal and counted the pages. Although it felt as though we'd just arrived… although we were still in the process of settling into the city's rhythm… that was it. Our time in Istanbul had reached its conclusion.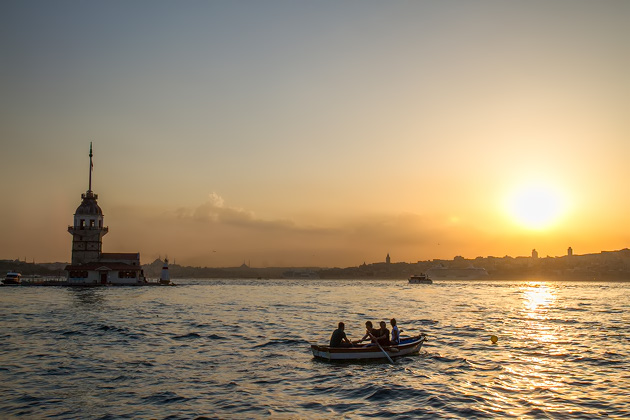 Having taken a couple months off after an action-packed 91 days in Idaho, we were unusually well-prepared for our time in Istanbul. We'd read books about the city and watched a few movies set on its streets. We had pored over guidebooks, compiled lists of things to do, and even learned some of the language. Istanbul was the largest city we had yet tackled, and we wanted to hit the ground running.
Over the course of three months, we barely rested. Every day was occupied by a visit to another museum, mosque or church. Taking another ferry ride, exploring a different neighborhood, meeting a new acquaintance, trying out a restaurant or bar… usually a combo of at least three such activities. "No time, no time!" soon became our motto, as we shuffled breathlessly from one sight to the next. Mosque, museum, bar. Ferry, mosque, cafe.
I won't lie: Istanbul wore us out. In our final weeks, we started to strike things from our list (apologies to Belgrade Forest), in favor of a few more leisurely hours in our favorite hangouts. But the quieter memories will be among those which most endure. Sitting across from the Maiden's Tower, a light rain tapping onto the umbrella above our heads. Discovering a tea garden in Kadiköy and joining backgammon-playing students in hours-long nargile sessions. Relaxing in Gülhane Park with a simit and a view of the Bosphorus. Listening to the calls to prayer while sipping rakı at a rooftop terrace.
Istanbul is an amazing city, completely unlike any other place we've been. There's so much history here, so many stories. And as we were reminded in our final weekend, Istanbul is not all about the past — it's vibrantly alive. The Gezi Park protests awakened in us a new respect for the city's citizens; a liberal, secular minority often at odds with the rest of Turkey. Clearly, this is a people determined to defend their city as a haven for tolerance, environmentalism and modernity in an increasingly conservative and capitalist country.
So, we leave exhausted, but with the knowledge that we'll never forget our time here, nor look back on it with anything other than warmth. These were three of the most entertaining months of our lives. We learned so much, met so many wonderful people, ate such incredible food, and visited sights which rank among the world's most amazing… Istanbul has enriched our lives in ways we'll probably never fully understand. And for that, we can only say "Thanks".