It was a common sight in Istanbul. You'd be standing in front of some amazing building like the Hagia Sophia or the Galata Tower, and all the tourists would be completely ignoring it. Their cameras were trained on something cuter than some ancient old structure: a playful pack of mewling kittens.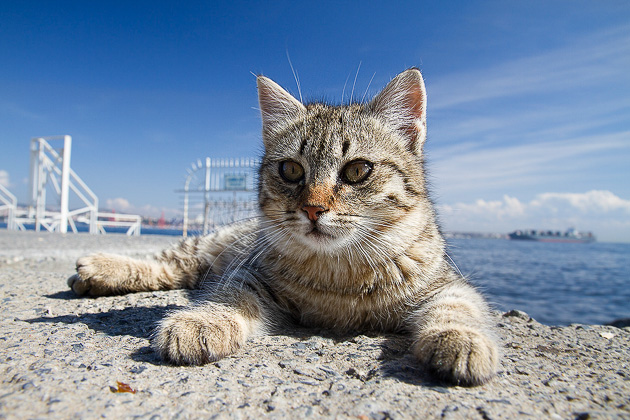 Istanbul's street cats are a phenomenon. They're everywhere in the city; balancing on windowsills, cowering beneath cars, slinking between gravestones, sunning on benches, even relaxing in churches. And despite yourself, despite having sworn that, today, you would not be taking any more cat photos… that the 50,000 pics you've already snapped are quite enough… and that, to be honest, your cat picture obsession is starting to alarm you… you see another! And it's chasing a butterfly, or making a grumpy face, or wrestling with its equally cute little sister, and you just can't resist.
The city loves its cats. Almost as frequently as the animals themselves, you'll find little plastic containers of food that people have set out for them. You'll run across tiny cat houses built to provide shelter during storms. In many other cities, they'd be considered a pest and "dealt with" in some nefarious way, but Istanbul focuses its efforts on caring for them.
During our three months in the city, we must have photographed hundreds of cats. We got to know our neighborhood crew fairly well… there was Stink Face, Whitey and Scab Licker. In May, kittens started appearing, and we even rescued a baby who'd been abandoned by its mother. We have so many cat pictures, we started a Tumblr photo series called Daily Cat Istanbul.
The cats were an unexpected highlight of our 91 days in Istanbul. If you're in the city, make sure to play with a few… and if you swing by Çukurcuma, say "hi" to Scab Licker for us. He'll be the one licking his scabs.
–Find Us On Facebook, Twitter and Instagram!
–Rent an awesome apartment in Istanbul