Found at the northern end of the Galata Bridge, the rough and tumble neighborhood of Karaköy is mainly visited for the purpose of transiting to other, more desirable areas. But with some nice spots to eat and a boisterous local atmosphere, there's good reason to spend a little time here.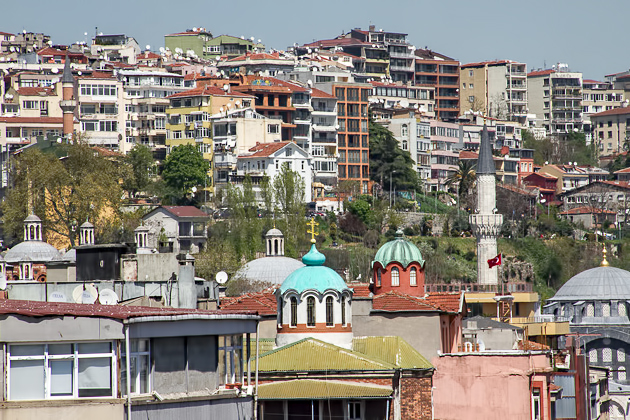 Karaköy welcomes visitors who are (a) arriving by ferry, (b) tram, (c) exiting the Tünel funicular, and (d) walking over the Galata Bridge. So its normal state of being is commuter chaos, with plenty of street vendors and charlatans on hand to capitalize on the confused pedestrian traffic. We had been through Karaköy a hundred times, but never paid it much attention until one of spring's first sunny days.
There aren't many famous attractions in Karaköy, so we were forced to be a bit creative in our sight-seeing. To view a mosque, for example, we ventured below the surface. The Yeraltı Camii, or Underground Mosque, is thought to occupy the cellar of the long-gone Galata Castle. Packed with pillars, neon lights and tombs, this morbid little mosque is among the strangest places we encountered in Istanbul, and we weren't sure whether to be impressed or creeped out.
Emerging from the underground, we were swept back into Karaköy's frantic pace. The area east of the Galata Bridge is increasingly popular, and boasts a couple excellent places to indulge your sweet tooth. At Karaköy Özsüt, we were introduced to kaymak: a thick, almost butter-like cream covered in honey. (The waiter accidentally short-changed me, and was so horrified upon realizing his mistake, I thought he might start crying). And at Karaköy Güllüoğlu, one of the most popular pastanes in Istanbul, we gorged ourselves on various sorts of baklava.
Yes, that's right. Two dessert shops in one afternoon. What, are you keeping track?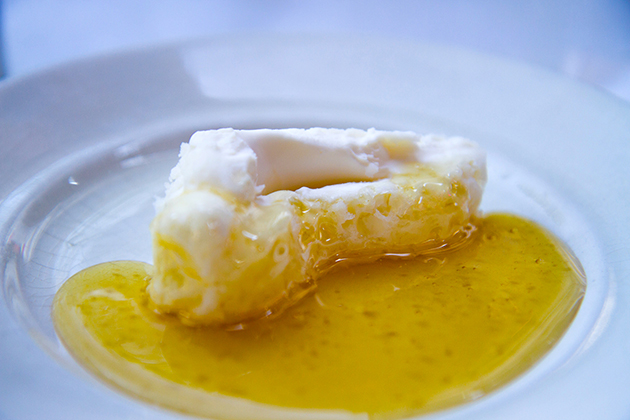 On the western side of the bridge, Karaköy becomes a totally different neighborhood. We walked through a lively fish market, and sat down in a large garden. A kid materialized at our side with a tray of tea, as though from a magical oil lamp. I have no idea where he came from or where he went to. He was just suddenly there with tea… and then gone. He appeared again when it came time to pay. With great views of the Galata Bridge and Eminönü across the Golden Horn, this is a popular hangout in the summer.
On the way back toward the Tünel entrance, we walked down streets populated by cats and hardware stores. It was all very picturesque and, by the end of the day, Karaköy had won our approval. Though it's a difficult neighborhood to recommend for sight-seeing, it definitely has its charms.
–Only Our Best Images From Istanbul