The Museum of Energy at Santralİstanbul
After opening in 1914, the Silahtarağa Power Plant was Istanbul's sole source of electric power for almost forty years. Today, the former plant has been converted into a cultural center called Sintralİstanbul. The original equipment has been refurbished and left in place, and now constitutes the exhibits of the unique Museum of Energy.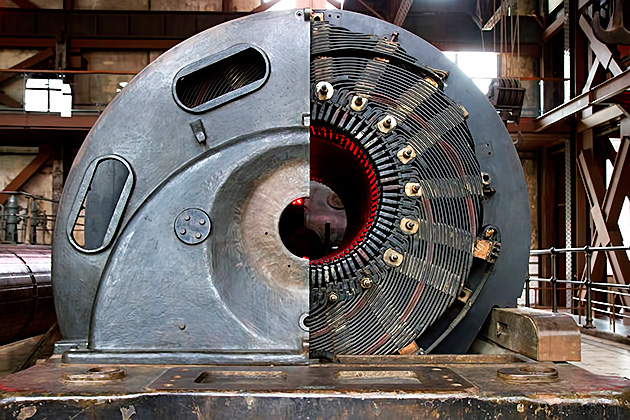 Before we even entered, I had suspected that I wouldn't be seeing a lot of Jürgen in Santralİstanbul. He loves old industrial sites, and here was one guaranteed to be fascinating and legally accessible. The museum was as amazing as we had hoped, filled with the massive old generators, turbines and controls used in the early days of electrified Istanbul. Naturally, by the end of the two seconds I had needed to survey the scene and turn my head towards Jürgen, he had already disappeared. Far off, at the top of an escalator, I could barely make out the clicking sounds of a camera, growing ever fainter.
From the top of this escalator, you gain an excellent view of the power plant. It's incredible how much machinery was required to light a city at the beginning of the 20th century. And it wasn't even all of Istanbul which benefited from Silahtarağa — just the Sultan's palace and some of the city's more upscale neighborhoods. We were able to visit the upper-level control room, which reminded me of a starship's deck, and walk down around the incredible generators (built by Siemens).
We spent most of our time in the Museum of Energy, but Santralİstanbul has plenty else to offer, including art galleries, cafes, a discotheque and, within a former boiler hall, the biggest library in Turkey. We had taken a ferry from Karaköy to Sütlüce to arrive, but discovered a super-practical (and free) shuttle bus between the museum and Taksim's Atatürk Cultural Center for the return journey. It runs every half-hour, and makes the prospect of revisiting Santralİstanbul much more appealing.
Santralİstanbul – Website
–Buy Images from the power plant as framed art here!