The seat of the Ottoman Empire for 400 years, Topkapı Palace is today one of Istanbul's most popular sights. The massive complex consists of four courtyards and hundreds of rooms, and the treasures on display are among the world's most valuable. A visit to Topkapı Palace is almost compulsory during a trip to Istanbul… just expect to be exhausted afterward.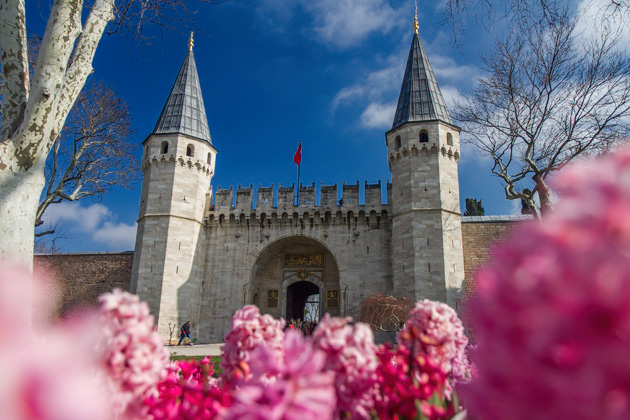 Everything about the Topkapı is excessive, and visiting is an exercise in patience and endurance. You're going to be waiting in a lot of long lines, and there's just no way around it. Although the courtyards and outdoor areas are spacious, the rooms and pavilions which hold the various treasures aren't. You spend much of your time in ı waiting to enter them, then shuffling briskly through in single-file queues.
Luckily, the rewards for patience are spectacular. Once you're through the Gate of Salutations, which separates the publicly-accessible first courtyard from the second, there's an overwhelming amount to see, and much of it is unforgettable. The sword and mantle of Muhammed. The Spoonmaker's Diamond, one of the world's largest. The Topkapi Dagger (which features in a popular 1964 heist movie). The marvelous pavilions where the royal family would rest, such as the Baghdad Kösk, the Terrace Kösk and the Grand Kösk. The arm of John the Baptist. The libraries. The throne room. The Gate of Felicity. The circumcision room. The garden views across the Golden Horn and to Asia. The keys to the Kaaba. The Harem.
Let's just put it this way… Topkapı Palace has the Staff of Moses. And I knew this, but was so dazzled by the other treasures, I forgot to search it out. Topkapı: awesome enough to reduce the Staff of Moses to an afterthought.
One of the best things about Topkapı is that chances for rest are plentiful. The palace is so large that you can always find a place to sit down and relax in the sun… and after a few hours of filing through rooms, you'll need to sit. These were the moments I most enjoyed Topkapı. Relaxing on a bench under a tree, reading from a history book about the murderous, amorous or deceitful practices of the sultan and his court. And then looking up! These buildings provided the scene for so much amazing history. Just being inside this palace is an incredible experience.
–Topkapi Palace Further Reading