Dolmabahçe Palace on Labor Day
The irony wasn't completely lost on us. Visiting Dolmabahçe Palace, a symbol of preposterous wealth and privilege, while just outside workers were marching in Istanbul's infamous Labor Day protests. "What's that smell?" I whispered to Jürgen, while admiring a carpet with more square footage than any apartment I've ever lived in. "Tear gas", he said, his eyes starting to well up. "Amazing carpet, though."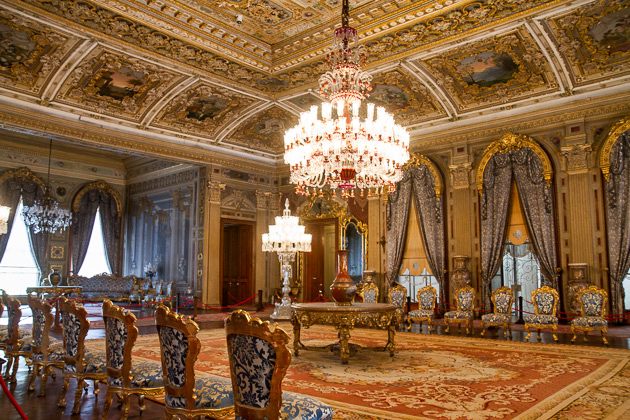 Labor Day is a big deal in Istanbul, with a history marred by violence. The march in 1977, for example, became known as the Taksim Square Massacre, when 40 people killed by overzealous policing and a panicked stampede. This year, the government refused to let protesters even reach Taksim Square. They were taking no chances — traffic in Beyoğlu was prohibited, public transportation was shut down, and even the Galata Bridge was closed.
And at the exact same moment Turkish protesters were being denied their right to congregate, Jürgen and I were ogling the outrageous luxury of Dolmabahçe Palace: perhaps Istanbul's most perfect symbol of class inequality.
Despite being completely contrary to Labor Day's socialist spirit, it was the perfect time to visit the palace. Dolmabahçe is normally one of the most popular tourist sights in Istanbul… but not when people can't reach it! And with public transportation down, only those lucky enough to live within walking distance (like us) could make it.
Built in 1856 by Sultan Abdülmecid I, for whom the long-serving Topkapı Palace was no longer modern enough, the new palace on the Bosphorus was a testament to growing European influence on the Ottoman court. Neoclassic, baroque and massive to the point of stupidity, the palace is over 11 acres in size, with 285 rooms, 68 toilets, and 6 hamams. Oh, and a harem. Because no home is complete without an enclosure for your female sex slaves.
Despite its grandeur, visiting the palace is unfortunately a bit of a let-down. You're forced to join a tour, with a guide whose main purpose is corralling you through as swiftly as possible, and you're not allowed to linger in any of the rooms. A real shame, since there's so much to linger over. The decorations, the artwork, the gold, the chandeliers, the carpets, the stairs… let alone the views of the Bosphorus from the magnificent windows.
The wealth of an empire was poured into this royal home for the benefit of a very few people, and the palace provided a stark reminder of how unfair life can be. So it was easy to find sympathy for the Labor Day protests going on right outside. Dolmabahçe, although beautiful, is sickening! The palace interesting to visit, but I'm mostly just glad that the days of sultans, lords and kings, and their massive homes, are behind us.