An Introduction to Turkish Marbling
Marbling, or ebru, is one of the most popular forms of Turkish art. We decided to introduce ourselves to the technique, and joined a workshop offered by Les Arts Turcs in Sultanahmet. By the end of the entertaining session, we had managed to create a few minor masterpieces.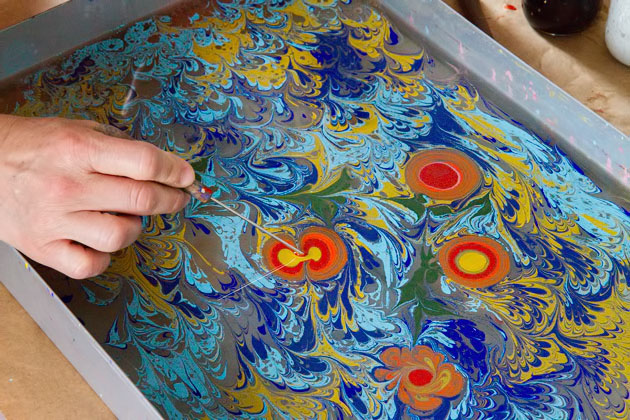 Ebru has been a part of the Turkish art scene for centuries, and has long been a specialty of Istanbul's dervish orders. Contributing to the technique's popularity is the fact that it's easy to learn; even an absolute beginner can create an impressive piece of art. Basically, you drip paint on top of water, use needles and brushes to make swirling designs, and then transfer the finished work onto paper. The paints are treated with ox gall to lower their surface tension, allowing them to float, and the water's properties result in fluid, hypnotic patterns.
Les Arts Turcs is a small gallery and artspace near the Topkapi Palace that both sells and displays original pieces, and offers classes in Turkish techniques such as ebru and calligraphy. And they let you get right to the fun stuff: within a couple minutes of entering the workshop, we were bent over trays of water, applying our first dabs of color. Marbling is something which doesn't require a lot of prior instruction.
My first painting was going wonderfully. Having chosen a background palette of orange, blue and white, I had used a comb to swirl the colors into a mesmerizing pattern. But then I screwed it all up by adding giant flowers. Somehow (and perhaps my inner artist should have realized this) red and pink flowers on a blue-orange background don't look good. My inner artist is an idiot.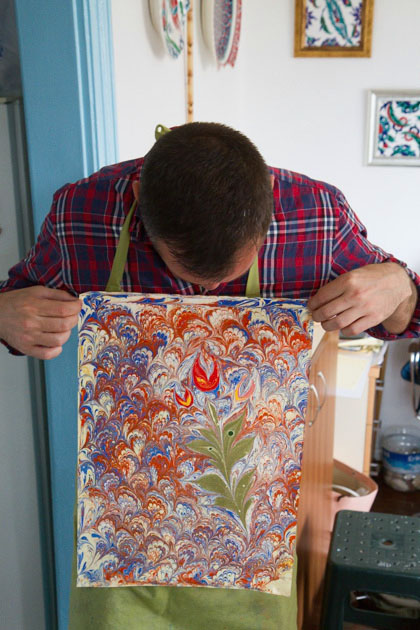 Luckily, my inner bullshitter is always willing to step up. "Exactly what I was going for!" I announced, proudly displaying my ridiculous pink-on-orange monstrosity to everyone in the room, daring them to call my bluff.
Flowers were the preferred motive during our workshop. We learned to make carnations, tulips, roses, violets and chrysanthemums. And then, just to mix it up, we did some trees. Since Islam isn't big on the artistic representation of the human form, plants and flowers are popular themes in Turkish art. Anyway, the colorful and geometric flower shapes suit the technique of marbling perfectly.
We had a great morning at Les Arts Turcs; marbling makes for a fun cultural experience, far removed from visiting mosques and museums. For €60 per person, you're provided instruction, and the chance to make a number of paintings, which you can take home. A more personal souvenir is hard to imagine.
Les Arts Turcs – Website, Details about the Marbling Class
–Paper Marbling Kit For At Home