Muradiye, Çekirge and Random Bursa Pics
Bursa is stretched out along the base of Mount Uludağ, and so its main sights are laid out on a long, almost straight line. The Yeşil Camii to the east, Gazi Park in the center, and the wonderful neighborhood of Muradiye to the west. Even further east is Çekirge, home to the city's famous thermal spas.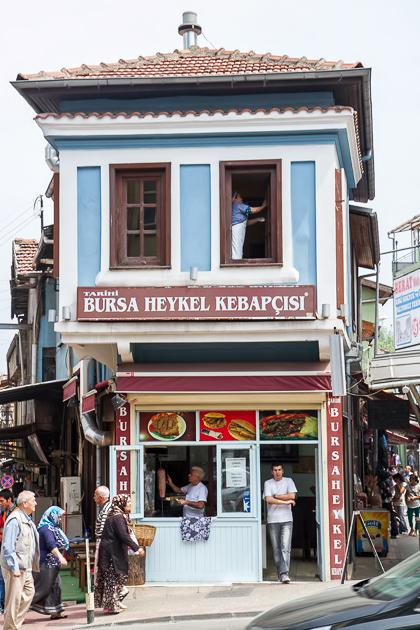 Though it's a few kilometers from the city center, the neighborhood of Çekirge is the nexus of Bursa's hamam scene, and hosts its most well-known hotels. This is the place to stay for those whose primary interest in Bursa is bathing; an activity which really is the highlight for many. Built for sultans and well-maintained throughout the ages, the Yeni (new) and Eski (old) Baths in Çekirge are both supposed to be excellent. We walked into the Eski Kaplıca, but didn't have enough time for a scrub. A shame, since it looked incredible and was far cheaper than comparable hamams in Istanbul.
Midway between the town center and Çekrige is charming Muradiye. High on a hill, this neighborhood boasts views over the valley, and centers around the Muradiye Mosque (unfortunately closed for renovation during our visit). Muradiye has not changed much throughout the years, and preserves a number of Ottoman-era houses. One of the best, the Hüsnü Züber House, is usually opened to the public but, like the mosque, was shuttered when we stopped by.
Muradiye was the last neighborhood we saw in Bursa before returning to the ferry back to Istanbul. One and a half days was not nearly enough time, and we often felt frustrated while rushing from one sight to the next, without being able to properly enjoy any of them. Three full days would have been better. Still, we came away with both a good impression of Bursa, and a camera full of photos.
Locations on our Bursa Map: Eski Kaplıca | Muradiye