The neighborhood of Yeşil (Green), separated from the city center by the Gök Dere river, takes its name from Bursa's most well-known sights: the Green Mosque and Tomb. Visible from across Bursa, the mausoleum sits atop a hill and is covered in monochrome tiles of a unique light-green color.
Green is definitely the color of Bursa. Its most famous mosque complex is decorated in green tiles. An entire neighborhood is named "Green". Despite the urban sprawl, there's a generous amount of parks and trees, and the city is surrounded by a green landscape at the foot of Mount Uludağ. The football squad Bursapor's color? One guess.
(On our second day in the city, there was a massive green procession from the football stadium to the town center. Thousands of people had taken to the streets, wearing green jerseys and carrying green Bursaspor flags, to mourn the passing of the club's president. He was a popular figure in the city, having brought Bursa its first and only domestic championship in the 2010/11 season.)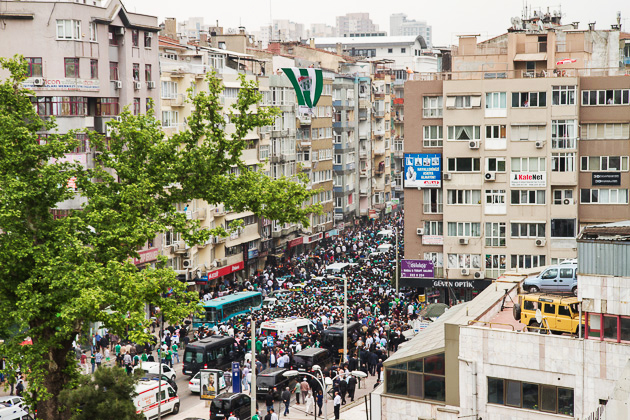 The Yeşil Camii was built in 1421 by Sultan Mehmed I, who had reunited the Ottoman Empire after an eleven-year civil war. His mosque is one of the more unique we've seen; far removed from the massive complexes of Istanbul, the Yeşil Mosque stands out for the lovely turquoise color of its tiles. The surrounding courtyard and tea houses, too, are beautiful, and boast views overlooking the valley below.
Just behind the mosque and further up the hill, is the Yeşil Türbe. This octagonal tomb holds the remains of Mehmed I, and is perhaps even more striking than the mosque itself. During our visit, just before the call to worship, it was filled with locals counting beads, reading their Korans and praying.