Eyüp: At the End of the Golden Horn
Found outside the old city walls at the end of the Golden Horn, the neighborhood of Eyüp is one of the most sacred spots in the Islamic world.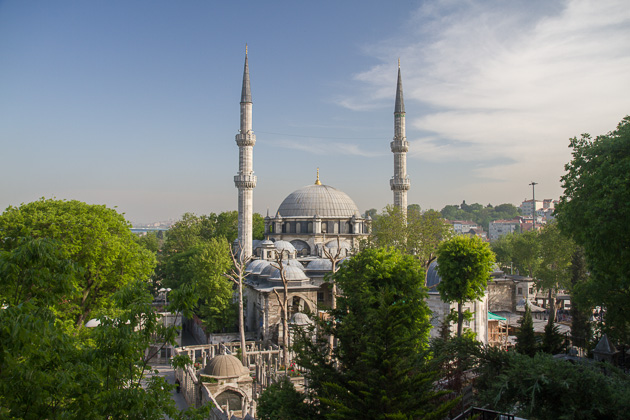 The best way to get to Eyüp is aboard the Haliç (Golden Horn) ferry which leaves from Eminönu. But as luck would have it, water traffic was closed on the Saturday morning that we had chosen on our visit, after heavy fog had caused a ferry collision. So we were forced to reach Eyüp by bus… providing a lesson that we'll now impart to you: if you have to take a bus to Eyüp, you might as well walk! The traffic along the southern Golden Horn is ridiculous, especially on weekends, and it took 90 minutes to complete the five kilometer journey.
By the time we finally arrived, we were in miserable spirits. But Eyüp made a valiant effort to cheer us up, with its cute, pedestrianized streets and festival-like atmosphere. This has been an important pilgrimage site for Muslims for centuries. Ayyub al-Ansari, the friend and standard bearer of the Prophet Mohammed, died here during the first attempted Muslim conquest of Constantinople, and was buried in the location that would later bear his name (Ayyub ? Eyüp).
Apart from its lovely location on the Golden Horn, Eyüp's prominent feature is its enormous mosque. We ducked inside during prayer time, but left quickly; the place was so packed we could hardly find an open patch of carpet on which to stand. Right across from the mosque is Ayyub al-Ansari's türbe, or tomb. Although closed during our visit, it's supposed to be amazing; completely covered in Iznik tiles.
For centuries, Eyüp has been the most fashionable place in Istanbul to be laid to rest, and it's surrounded by cemeteries. The largest of these stretches up a steep hill that eventually ends at the Pierre Loti Café, named for the French novelist. This lovely garden cafe boasts a view that takes in the entirety of the Golden Horn, all the way to the Bosphorus Strait. Breathtaking, and it was the perfect way to end a long day.