The Ottoman Fortress of Rumeli Hisarı
It was the mid 15th-century, and although the Ottoman army had long since surrounded the city, Constantinople was proving stubbornly resistant. In order to more effectively isolate the Byzantine capital, the invaders hastily constructed the Rumeli Hisarı. This fortress along the Bosphorus is still in marvelous condition, and makes for a fun outing.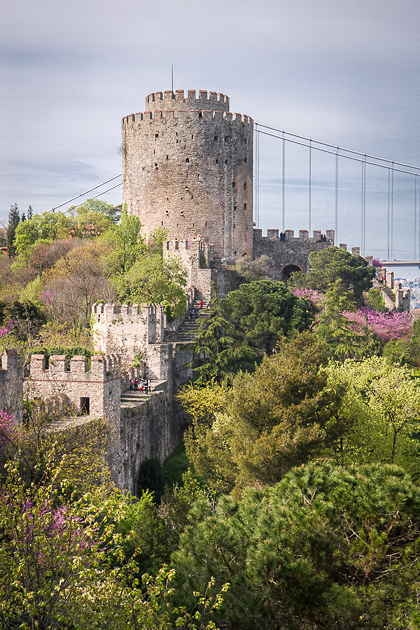 By running a heavy chain between Rumeli Hisarı and its Asian counterpart, the Analodu Hisarı, the Ottomans were able to prevent any of Constantinople's northern allies from sending assistance to the beleaguered city. The fortress was completed in 1452, and a weakened Constantinople fell just one year later. A section of the original chain which helped break Byantium can be seen in the Military Museum.
We had already walked past the Analodu Hisarı on our way to Kanlıca, and hadn't been terribly impressed by its meager remains. But the Rumeli Hisarı is another matter altogether. This fortress is massive, and a lot of fun explore. From the ramparts which soar high above the Bosphorus, you can enjoy some incredible views, especially of the nearby Fatih Bridge.
Rumeli Hisarı – Official Website