After visiting the neo-baroque Küçüksu Pavilion, we walked north along the Asian shore of the Bosphorus to the pleasant town of Kanlıca, where we treated ourselves to yogurt by the seaside, and then lunch at an amazing hilltop restaurant overlooking the strait.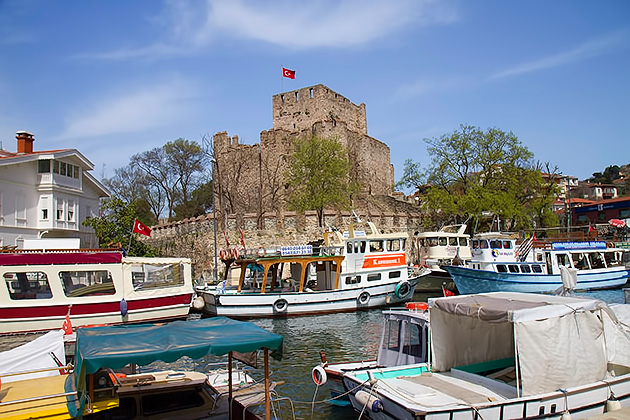 It took almost no time to walk from the Küçüksu Pavilion to the Anadolu Hisarı: a fortress built by the invading Ottoman forces in 1397. By connecting a chain from this fortress to the Rumeli Hisarı across the Bosphorus, the Ottomans were able to blockade Constantinople from the north. Today, Anadolu Hisarı is almost entirely in ruins; it looks cool, but there's nothing to visit, unless you count the comfortable waterfront cafes which have sprung up in the fortress's shadow.
We continued walking north, passing underneath the Fatih Bridge which, at nearly a mile in length, is one of the world's longest suspension bridges. We would have loved to walk across it, but the bridge is unfortunately closed to pedestrians in order to discourage suicides. But no preventative measure can thwart the determined self-killer! The day after our visit, there was another attempt. Luckily, the guy survived the fall and was fished out by policemen waiting in a boat.
Our walk along the Bosphorus wasn't the most pleasant stroll we've ever embarked on. The traffic was heavy, and the sidewalks difficult to negotiate. Even worse, the views of the Bosphorus were consistently obstructed by fences protecting new townhouses and upscale restaurants. So we were relieved to arrive in Kanlıca: a cute neighborhood centered around a small port. Kanlıca is famous around Istanbul for its yogurt, which we sampled at the restaurant Asırlık; mine came topped with ice cream, and Jürgen's with honey. It was the best yogurt we had in Istanbul, and provided exactly the energy boost we'd need for the final stage of our journey: a hike up to the Hıdıv Kasrı.
Set atop a hill just behind Kanlıca, the Hıdıv Kasrı (or Khedive Palace) was built in 1907 for Abbas II: the final Ottoman governor of Egypt and the Sudan. Today, the palace is owned by the state and used solely as a restaurant. Its location is magnificent, in the middle of a garden decorated by tulips of every conceivable color. We assumed that a restaurant set in a former palace might be out of our usual price range, but needn't have worried. This was an affordable place to eat, perhaps because it's run by the state. The food wasn't memorable but worth the price, and the views over the Bosphorus were unbeatable.
Locations on our Map: Analodu Hisarı | Kanlıca | Hıdıv Kasrı
–Download Our Travel Books Here