Istanbul Quick Eats: Kumpir, Çiğ Köfte & Soggy Burgers
Download our Istanbul travel book
Hustling from mosque to mosque, museum to museum, climbing steep hills, darting across traffic to catch the tram, or leaping onto an Asia-bound ferry at the last minute, you can work up quite an appetite while navigating Istanbul. While on the go, we're often in the mood for something more substantial than a simit, but have no time for a real meal. Luckily, Istanbul has plenty of cheap ways to fill up on quick energy. Here are a few of our favorites: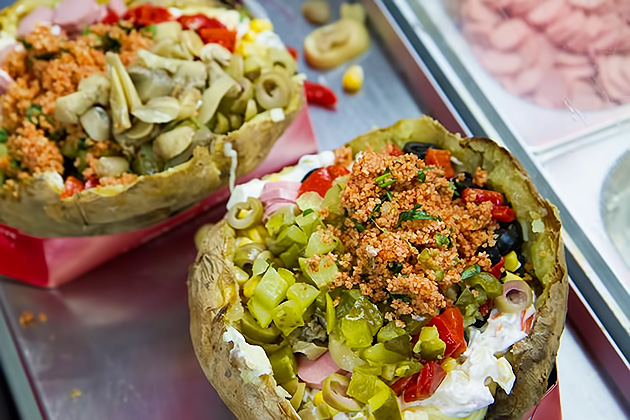 I think we can all agree on the tastiness of the classic baked potato. Perhaps a dollop of sour cream, and some chives. Go ahead and add some bacon bits, since you're feeling so crazy. That's a good American-style baked potato, but in Turkey it's merely the start.
The first time I ordered a kumpir, I couldn't believe my eyes. The cook marched over to what I had mistakenly believed to be the salad bar, and began piling everything imaginable onto my potato. Until I could no longer even see the potato. Olives! Tomatoes! Sausage! Peppers! Pickles! Couscous! Onions! Potato Salad! Yes, that's right: potato salad on top of a potato! Why not?
By the time my kumpir was ready, I felt almost as deranged as it looked, and could hardly wait to get my hands on it. From the first bite to the last, this monstrosity was wonderful. How could it not be? Every type of food I enjoy was on top of it.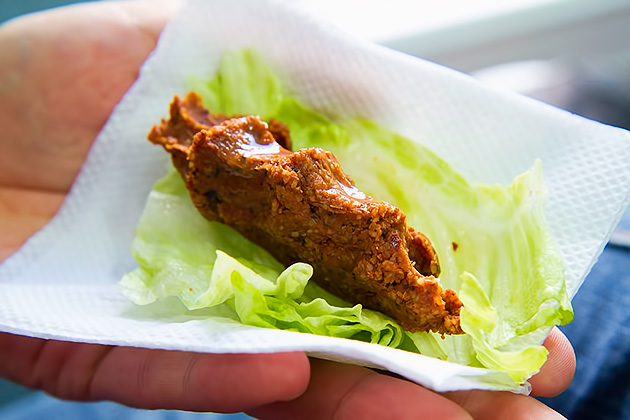 Çiğ köfte is another popular quick meal — joints specializing in only çiğ köfte can be found on almost every corner of Istanbul. "But what is çiğ köfte?" you might ask. Who cares? It looks delicious, and everyone seems to love it. "We'll have two, please!"
[Munch munch] ohh, mmm… delicious! Thin bread generously smeared with some sort of dark red substance, then garnished with fresh lettuce, drizzled with pomegranate syrup and rolled up for easy consumption. For less than two euros! "Hey there, Jürgen, what's that you're googling?"
"The Translator says that çiğ köfte means 'raw meat'. And Wikipedia says 'Çiğ Köfte is a raw meat dish in Turkish cuisine'. And Image Search returns… "
At this point, he abandoned further research due to sudden dry heaving. I would have assisted him, but already had both hands halfway down my throat, trying to provoke vomit. The other guests in the shop watched us huhrking and hahking until a girl who could speak English guessed at the reason for our panic, and helped calm us down. "Don't worry! It's illegal in Istanbul to serve raw meat. What you're eating is a vegetarian substitute made of walnut paste."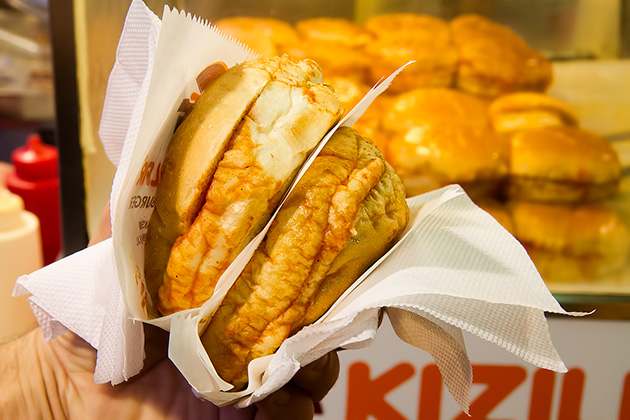 Before arriving in Istanbul, we watched Anthony Bourdain's visit to the city. It's an entertaining episode, and well-worth forty minutes of your time. Of all the incredible food he sampled, there was one dish that lodged itself unshakably into our minds: tiny, soggy hamburgers.
I have no idea why these were so appealing to us. They look hideous, like McDonald's burgers that have spent a few hours bathing in a pool of sweat and grease. Maybe it was Bourdain's groans of pleasure as he ate them. Maybe we're just cursed to crave that which should repulse us.
It didn't take long for us to appear at Taksim Square's Kizilpaylza, and order up a couple of sloppy, soggy hamburgers. Each one takes about thirty seconds to finish off. Thirty seconds filled with nearly as much pleasure as shame. Istanbul's mini-burgers are not the kind of culinary conquest you're going to feel particularly proud about, but lord almighty, do they taste good.
Kumpir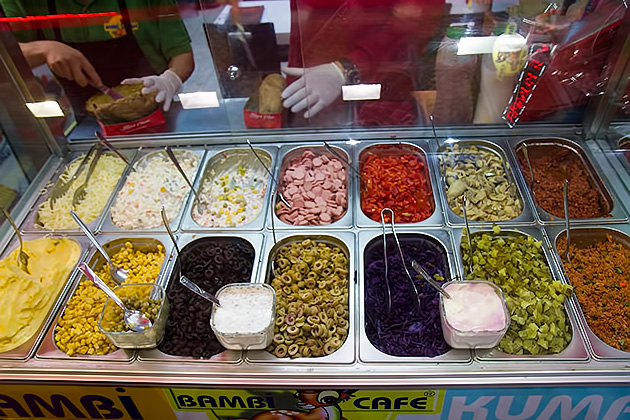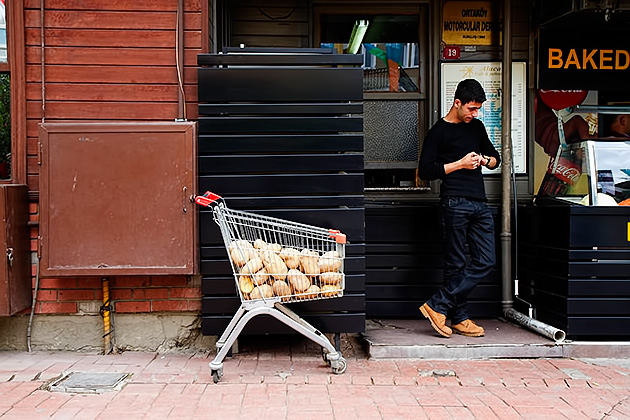 Çiğ Köfte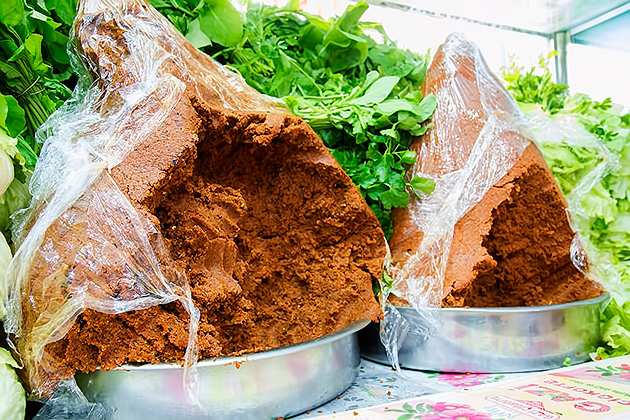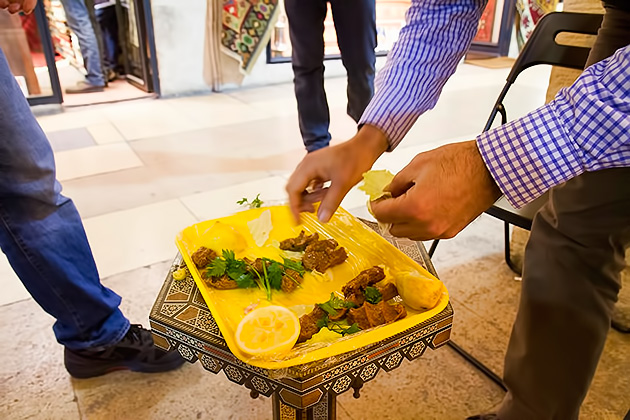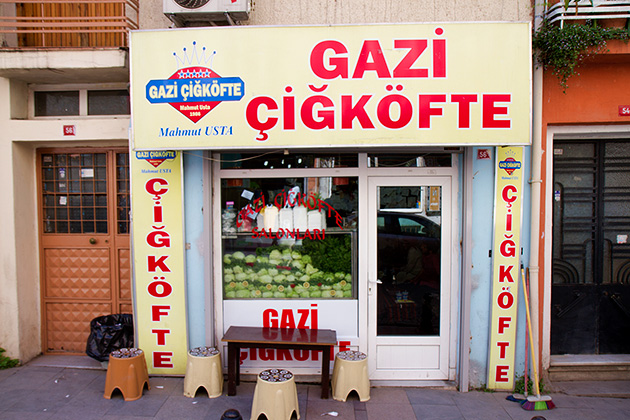 Kizilpaylza Hamburgers