Istanbul's Museum of Modern Art occupies an old warehouse in Tophane, right on top of the Bosphorus Strait. Downstairs are rotating temporary exhibits, while the upper floor houses the permanent collection along with a stylish cafe that has great-looking food, and an even better looking view.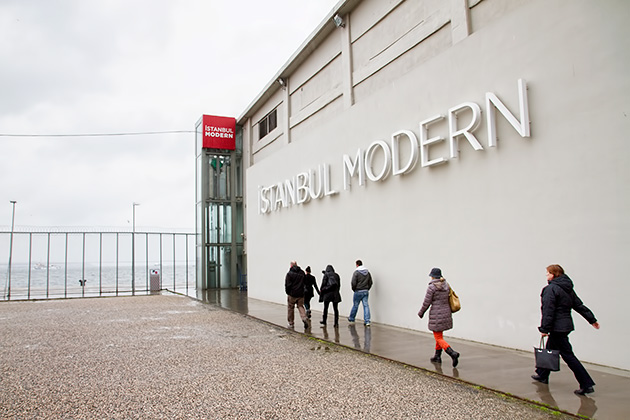 As is always the case in modern art museums, the quality of the work varies wildly. Some pieces are really cool, but many left us scratching our heads and making depreciative comments like "This is art? My five-year-old niece could do that!"
(I recognize that I'm just revealing the level of my ignorance by scoffing at modern art. A professional curator, educated in various artistic movements, selected this piece for the museum and it must be annoying to overhear some snide, clueless idiot like me saying, "That's art?" Because, as he very well knows, it definitely is. But any attempt at elucidation would fly right over my snarky little head, since I don't have the foundation necessary for even a basic understanding of it. Still. It's a bunch of damn scribbles. My five-year-old niece really could do that.)
So instead of the art, let's concentrate on the building and the experience of visiting the museum. The converted warehouse is cool, with exposed vents and pipes on the ceiling and a spacious feel. And the views out onto the Bosphorus are unbeatable; it was kind of funny to see groups gathered at every window looking out onto the water, while the nearby artwork was ignored.
We did enjoy the exhibitions, particularly the permanent collection which concentrates on Turkish artists. The three temporary shows were also worthwhile, and we spent well over an hour roaming the grounds. Until now, much of our focus had been on Istanbul's rich past and historic buildings, so it was nice to be reminded that this is also very much a contemporary city with its eyes set firmly on the future.
Location of the Istanbul Modern
İstanbul Modern – Website