Set in the basement of an old tobacco factory on the southern shore of the Golden Horn, the Rezan Has Museum presents an interesting walk through Turkey's archaeological history, from the copper age to the arrival of the Selçuks.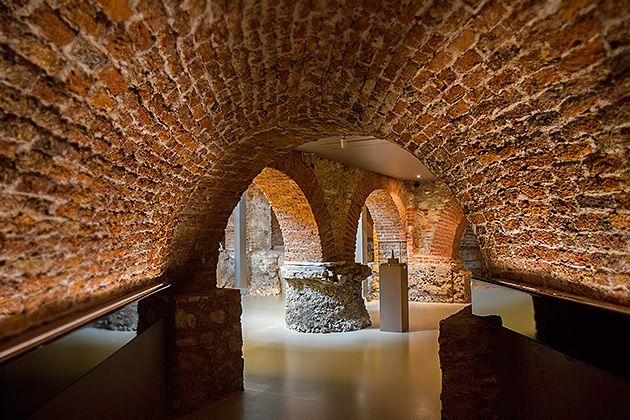 The former Cibali Tobacco and Cigarette Factory is today home to the Kadir Has University. The factory dates from 1888, but was abandoned for decades before being purchased by a foundation which, following the examples of the Istanbul Modern and Santralİstanbul, discovered a contemporary use for the historical building. The conversion from factory to university was beautifully realized and won the 2003 Europa Nostra award, which honors the "safeguarding of Europe's cultural and natural heritage".
During the restoration, the site was realized to have an even older history than believed, when both an Ottoman hamam and a Byzantine-era cistern were discovered in the basement. The remains were preserved as well as possible, and became the setting of the subterranean Rezan Has Museum.
For an archaeology museum, an ancient underground cistern is about as atmospheric a setting as one could hope for. The permanent collection is small, but nicely presented, and takes the visitor on a chronological journey through the ages, from Copper Age tools and jars to the oil lamps and weapons carried by the Selçuk Turks on their march through Anatolia. There's ancient medical equipment and a fascinating collection of decorative belts worn by the mysterious and short-lived Kingdom of Urartu.
It's great to see Istanbul making such constructive use of its cultural heritage, instead of razing these historic buildings to the ground. The Rezan Has Museum is just as fascinating for its archaeology exhibits, as for the wonderful restoration of its ancient cistern.
Rezan Has Museum – Website
-Further Reading: A Short History of Byzantium