Standing 66.9 meters in height, the Galata Tower dominates the skyline of Beyoğlu and is one of Istanbul's most instantly recognizable landmarks. Anxious for a birds-eye view on our first full day in the city, we visited the tower, showing up just in time for sunset.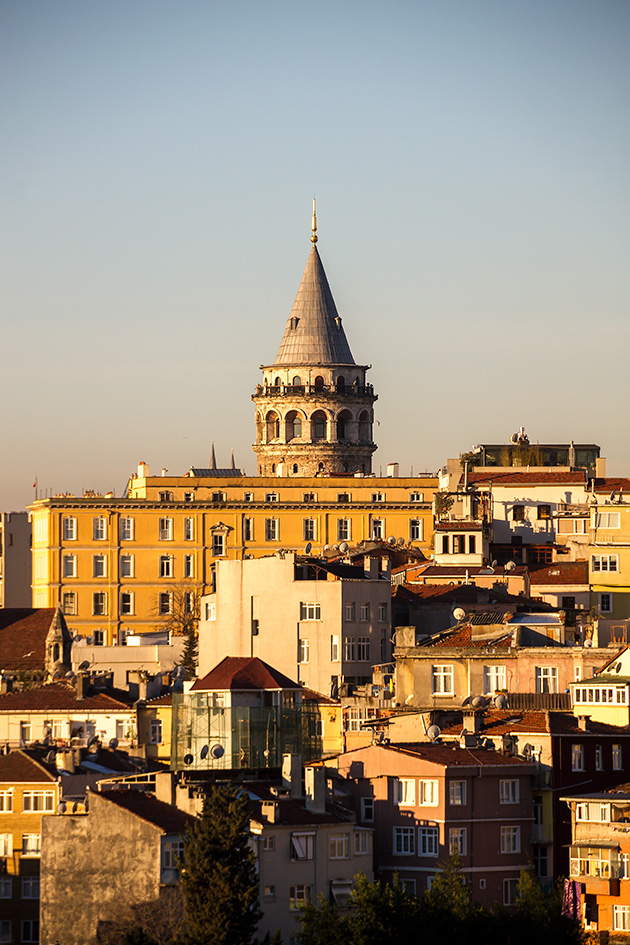 Galata Tower was built by the Genoese in 1348 during the twilight of the Byzantine Empire. In those days, the area presently called Beyoğlu was known as Galata, and was a colony of the Genoan Republic. Genoa had long-established trading ties with Byzantine and, in 1267, took advantage of its partner's fragile state to claim a prime section of real estate along the Golden Horn. The Galata Tower formed part of the defense walls which were built to protect the community of foreigners.
During its life, the Galata Tower has served many purposes: defense for the Genoese, a 16th-century astronomical observatory under the science-oriented Ottomans, a makeshift jail for Christian POWs, and a fire tower (until it was devastated by a fire). But most memorably, it was used as a jump-off point for one of mankind's earliest attempts to fly.
Hezârfen Ahmed Çelebi was an experimental aviator of the early 17th century. After strapping on artificial wings of his own design, he took a long look over his city, put his faith in Allah, and leaped from the heights of the Galata Tower. The flight was a success, and he landed unscathed on the shores of Üsküdar, six kilometers away over the Bosphorus Strait. Sultan Murad IV was initially thrilled by the accomplishment, but came to view the flying magician as a threat. For his death-defying efforts, Çelebi was awarded with exile to Algeria (which, as far as Ottoman-era punishments go, was pretty light).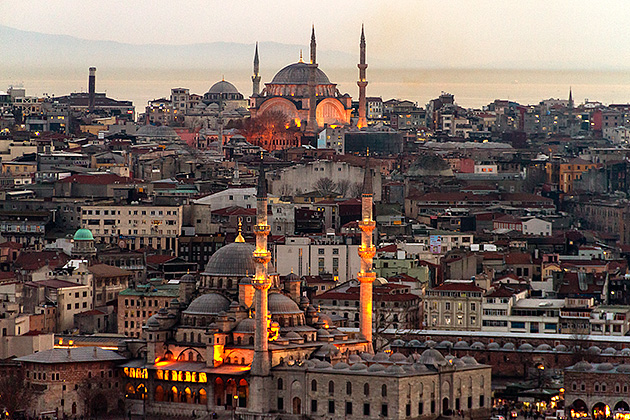 It was about a half-hour before sunset when Jürgen and I showed up at the ticket booth, and we couldn't have been happier with our timing. Here is a true 360° panorama of Istanbul, with amazing views in every direction. Beyoğlu and our new home of Cihangir to the north, the Bosphorus Strait with its steady flow of tankers to the west, the Golden Horn winding its way inland to the east, and most impressively, the mosques and sights of Sultanahmet directly to the south.
As the sun slowly set behind the Marmara Sea, the city changed color dramatically, from yellow to pink to purple to deep blue. The mosques which Istanbul has in such astounding abundance began to flip on their lights, one by one. And then the chanting started to ring out from the minarets. The sound of so many mournful songs, layered atop each other and echoing from every corner of the slowly darkening city… it was enough to give me goosebumps.
Location of Galata Tower on our Map