During our first Turkish breakfast, I surveyed the table with fear and doubt. Every conceivable inch was occupied by a plate, bowl or cup. It was a ridiculous amount of food! Had the waitress misheard our order? When I said "breakfast for two", had she understood "A merry feast for my hungry horde of Vikings"? Because this… this couldn't possibly be right.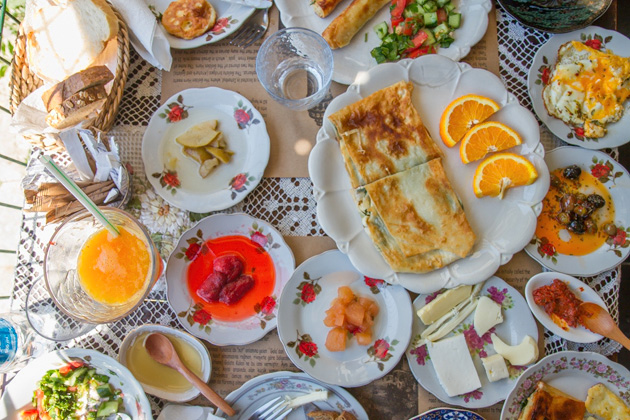 But no, it was a normal Turkish breakfast. Bread, olives, honey, jams, eggs, cheeses (old and new, cow and goat). Fluffy, filled pastries called börek. Omelets, sausage, tea. Everything you could possibly want. Turks really enjoy their kahvalti (literally, "before coffee"), and can sit around the table for hours. Newspapers are read, friends pass by and sit down, politics are discussed, more is ordered, and a lot is eaten.
We had a few wonderful breakfasts during our time in Istanbul. Aşşk Cafe in Nişantaşı, for example, served us a meal we'll be fondly remembering for years. It was the first time I'd eaten chunks of sweet, chewy honeycomb. And did you know you can mix tahini and grape molasses? Well you can, and it's delicious.
Another great experience was at Cafe Privato, where a view of the Galata Tower competes with an overflowing table of deliciousness for attention. As opposed to Aşşk Cafe, where we selected a variety from the menu, here were ordered a set breakfast, adding cigar-shaped börek filled with cheese. The jams were homemade, as were the breads and lemonade, and everything was delicious.
We had scored an excellent table near the window, and stayed for at least an hour after we'd finished, ordering cup after cup of tea. I felt a little bad about hogging one of the restaurant's best views, but lingering seems to be the norm. Above all, Turkish breakfast is about slow, relaxed enjoyment. It's hard to put a better start on the day.
Locations on our Istanbul Map: Aşşk Cafe | Cafe Privato
–Download Our Travel Books Here!