Çengelköy and the Beylerbeyi Palace
There's no shortage of charming neighborhoods lining the shores of the Bosphorus, but lovely little Çengelköy is among the very best of them. We had breakfast here on a Sunday morning, before walking along the coast to the incredible Beylerbeyi Palace.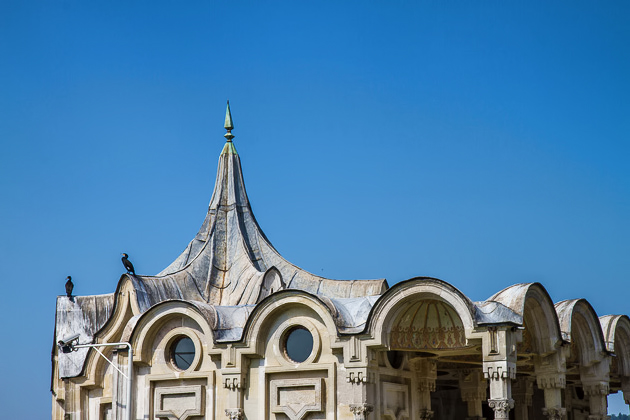 Çengelköy literally means "Hook Village", and was so named because it occupies a section of shoreline that hooks around a bend in the Bosphorus. The layout provides a perfect view of the strait, south to the Bophorus Bridge and into the Sea of Marmara beyond it. On the Sunday we visited, there was a market selling custom-made clothing and jewelry, and a pleasant, unhurried atmosphere in the cafes and restaurants.
After eating, we made a leisurely stroll to Beylerbeyi: another neighborhood about fifteen minutes down the Bosphorus. (You might be noticing an overuse of terms like "leisurely", "unhurried", and "relaxed". But this it's simply the frame of mind which the area inspires! Everything about it is peaceful and calming. The sound of lapping water, the fishermen focused quietly on their lines, the shade-giving plane trees, the old men drinking tea and playing okey (a Rummikub-like game). It's a welcome change of pace from the normal mayhem of the city.)
Beylerbeyi is almost as cute as Çengelköy, and known for its amazing palace. Built in 1832 as a summer residence for Sultan Abdulaziz II, the Beylerbeyi Palace sits almost directly underneath the Bosphorus Bridge. Having arrived a little late (our stroll was leisurely, after all), we were compelled to join a Turkish-language tour of the palace. The English tours were done for the day. So, I spent the tour inventing imaginary translations of what our guide might be saying. Such as:
"This vase alone is worth more than your puny lives put together! Bow before it, you filthy swine!"
"Look at this golden mirror. It once reflected the image of a Sultan, but now it shows only an unwashed peasant! That's you I'm referring to, by the way."
The palace, of course, was astounding. It was similar to the Dolmabahçe Palace, which we had visited just a few days before. But the fact that this was just meant to be a "summer residence" really hammered home how wealthy the sultans of the late Ottoman Empire truly were. In the reception hall, for example, there's a fountain and pool — inside the palace! Visiting a place like this can really make a guy feel inferior.
Locations on our Istanbul Map: Çengelköy | Beylerbeyi Palace