Modern Mosques in Istanbul
We visited a lot of mosques during our time in Istanbul, most of which were centuries-old architectural masterpieces built by the Ottomans. But Islam is very much a modern religion, so we felt compelled to check out a couple of the city's contemporary mosques, one in Kadiköy and the other in Umraniye.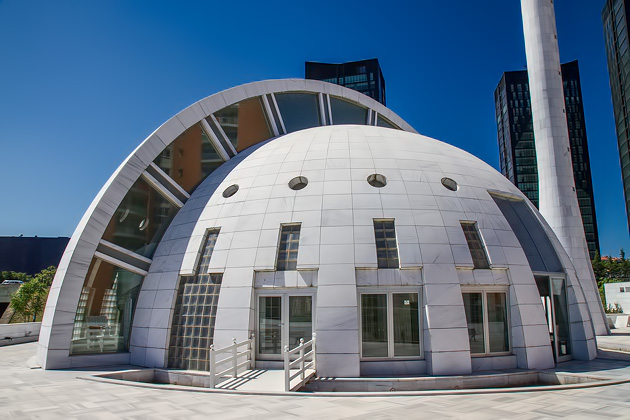 Kadiköy's beautiful Şakirin Camii, completed in 2009, has the distinction of being the first mosque in Turkey whose interior was designed by a woman. And Zeynep Fadillioglu made sure that the female debut in the world of mosque-design would be something memorable. The Şakirin's blue mihrab and asymmetrical chandelier are unlike anything we'd seen in other mosques, and the whole place is just lovely. There's an elegant fountain in the courtyard, and the large cemetery behind the mosque supplies a mournful backdrop.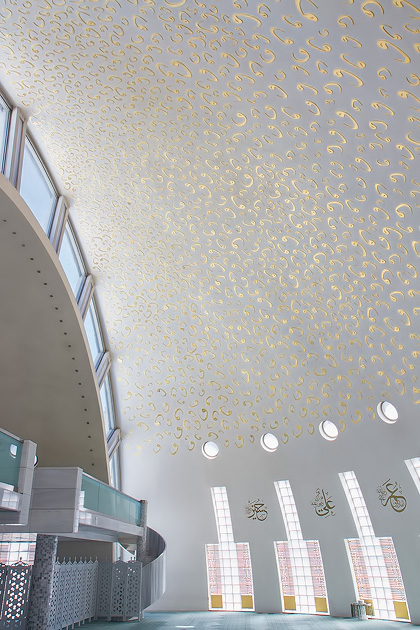 In the neighborhood of Umraniye, across a busy street from Istanbul's IKEA store, is the defiantly modern Yeşilvadi Mosque. Most reminiscent of a small IMAX theater, this spherical mosque is probably the strangest we visited in Istanbul. A lot of mosques have domes, but this is the first time we'd seen a dome-shaped mosque. It's just a shame about the location; the Yeşilvadi was completely empty during our visit. Apparently, a trip to IKEA doesn't leave a lot of time for prayer.