The Yeni Camii – New Mosque
The Yeni Camii translates to "New Mosque", and really demonstrates the problem inherent in naming things "New". Sure… back in 1665, the Yeni Camii was Istanbul's great new mosque, and everybody in the Ottoman Empire was freaking out about how brand new it was. But 350 years later? Not so much.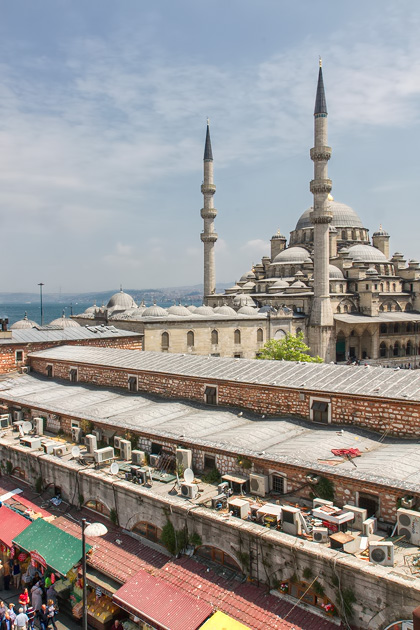 Even though it's one of the city's grandest mosques and conveniently located right next to the tram stop and ferry terminal, visiting the Yeni Camii was one of those things which we kept putting off. Every time we almost went inside, we were lured away by other, more compelling sights nearby. The Spice Bazaar. The Rüstem Paşa Camii. The streets of Tathakale and the fish stands in Eminönü plaza. But finally, during our last week in the city, we made the trip.
Construction on the Yeni Camii began in 1597, but wasn't finished for 68 years. The project was subject to a great amount of political jousting and controversy, and progress was delayed time and time again. The mosque was built in the historically Jewish neighborhood of Eminönü, and an old synagogue was demolished to make room. Some believed that the mosque was a pretext for disempowering the city's Jewish community.
Despite the strife, the Yeni Camii was eventually completed. It enjoys a grand location on the shores of the Golden Horn and, with its 66 domes, cuts an impressive figure when seen from the shores of Galata. The courtyard and surrounding plaza are far less peaceful than other mosques, which isn't surprising given the mayhem of the adjacent Spice Bazaar. And the interior isn't as architecturally pleasing as that of the Süleymaniye or the nearby Rüstem Paşa. But the mosque is definitely worth a look, particularly if you're already in the area. And on almost any visit to Istanbul, you'll be in the area.