The Spice Bazaar (or Egyptian Bazaar)
Its real name might be the Egyptian Bazaar (Mısır Çarşısı), but the Spice Bazaar is how everyone refers to it, and gives a better indication of what to expect inside. Found next to the Yeni Camii near the Golden Horn, this ancient covered market dates from 1660 and is Istanbul's second biggest bazaar.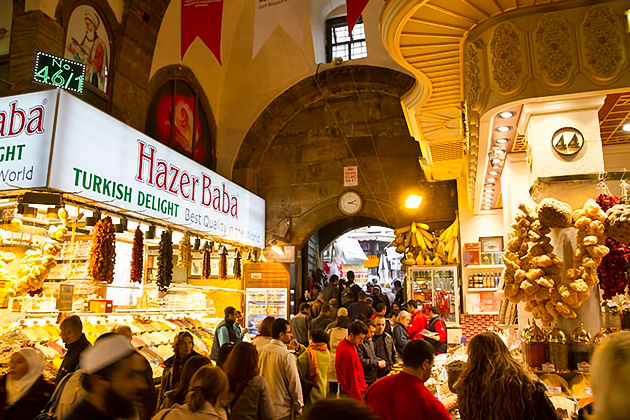 Although we found the shopping experience inside the bazaar stressful and monotonous, the building itself is wonderful. After the Ottomans conquered Egypt in 1517, they raised the funds to build this covered market by imposing heavy taxes on Cairo. For centuries afterward, the Egyptian Bazaar was the center of Istanbul's spice trade, where handlers would truck in colorful herbs and seasonings from across the far-flung empire. The L-shaped building is a bit of a curiosity — there are six gates, but the main entrance is at the joint known as the "Prayer Field". In this, the bazaar's only wooden section, an officer would lead the merchants in morning prayer and remind them to trade fairly.
I hadn't necessarily been anticipating turbaned merchants in the Spice Market, sitting atop piles of cinnamon and mirthfully counting out their golden coins, but perhaps something a little more genuine than the tourist trap it has become. There was still spice, and plenty of it, but every stand had the same selection and the same prices. The same hawkers perched outside, entreating you to examine their teas and aphrodisiacs. A lot of stands were dedicated wholly to souvenirs. It's definitely not the place locals come to fill their spicing needs, and the inauthenticity ruins the experience.
Just outside, though, in the nook of the building's L-shape, is a place where locals do shop: the outdoor Pet and Gardening Market, with hundreds of caged birds, fish, some dogs, and boxes full of clucking chicks. We enjoyed the atmosphere here a lot more than inside the Spice Market. One of the more interesting aspects was a row of Leech Doctors with buckets full of the blood suckers to be applied to feet or even the face. We had hoped to get a picture of the doctors plying their trade, but unfortunately, none of them had clients. And despite Jürgen's pleading, I wasn't about to sit down.
Location of the Spice Market on our Map