Istanbul is most famous for ancient mosques and a starring role in world history, but there's another side to it. One that most tourists never bother to see. It wasn't until our last couple weeks in the city that we ventured into modern Istanbul. On the outskirts of the city center, new skyscrapers are springing up like weeds, and the focus is squarely on business.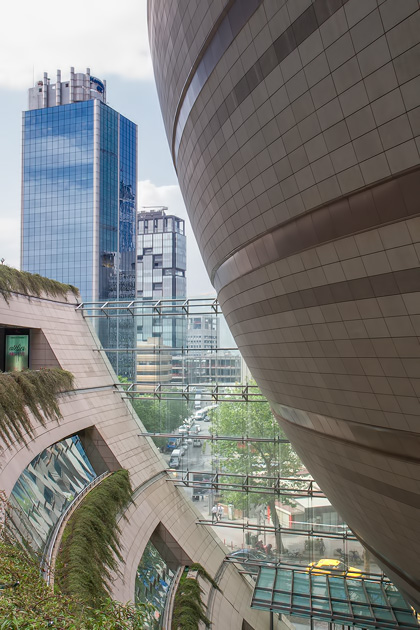 Bomonti was an interesting neighborhood in which to begin our excursion into Istanbul's modern side. Here, the human cost of rapid growth is readily apparent. Across the street from a brand new, luxurious development called the Anthill Apartments, there's a collection of ramshackle dwellings. They might have been here first, but these are not exactly the kind of neighbors which the new, luxurious Bomonti desires, and the poor old homes are being swiftly removed.
It's all rather depressing, so we were eager to leave Bomonti for the adjacent neighborhood of Sisli, where we sat down at a corner cafe and watched life in modern Istanbul whiz by. With gray concrete, busy shops and sharply-dressed people in a big, important hurry, we could have been on a street corner in any country… except, perhaps, for the giant posters of Atatürk draped across most of the neighborhood's buildings.
After tea, we made our way to Kanyon, in the business district of Levent. This large mall, opened in 2006, was designed to resemble a canyon and the effect is pretty cool. The mall itself is upscale and pleasant… and though I find it hard to lavish praise on malls, I'll say that, as far as malls go: not bad. We got a drink on the "canyon's" floor, and took stock of those around us. Clean-cut businessmen and women typing into MacBooks or tapping on their phones. Not many beards, nor headscarves.
It was educative to see this very different side of Istanbul, but not an experience I would be likely to repeat or recommend. Jürgen enjoyed it for the photo opportunities which contrast so sharply with the city's more well-known sights, but both of us were equally ready to get back to the ancient Istanbul we've come to know and love.
Locations on our Map: Anthill Apartments (Bomonti) | Kanyon