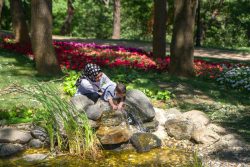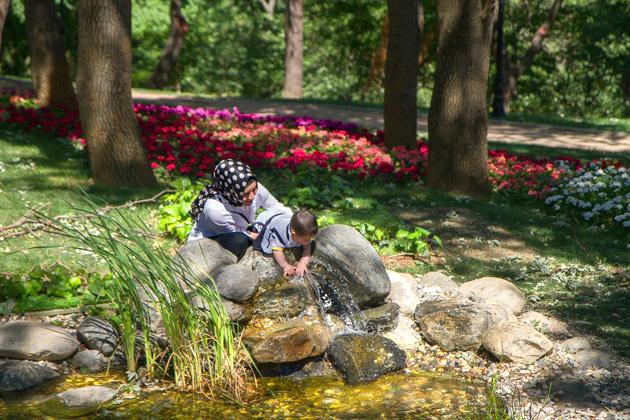 With its trees, chalets, ponds, waterfall and jungle gyms, Emirgan's park is one of the best in the city. Of course, since it's also one of the only parks in the city, it doesn't have much competition. Istanbul may have a lot of things to recommend it, but an abundance of green spaces is not one of them.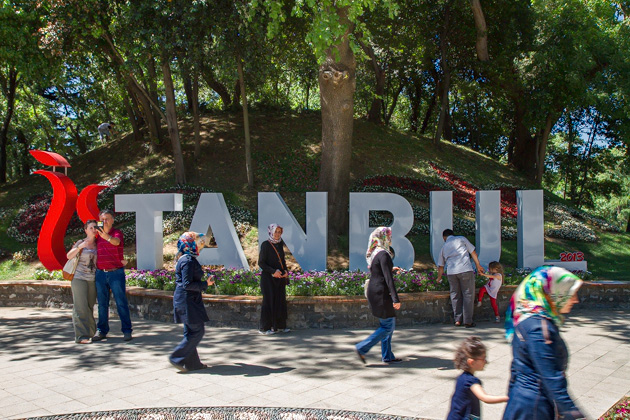 But Emirgan Park is excellent by any standard. Perhaps a bit too hilly to get a game of soccer going, but that doesn't concern the hordes who turn out for a day in the sun. We visited on a Sunday afternoon, along with seemingly every family and every piece of picnicking equipment in Istanbul. Grills, coolers, cutlery, card games, blankets, radios, pillows… when Turkish families go for a picnic, they bring more stuff than we even own.
Emirgan Park is not for the weak of leg. To even arrive at the gate, you have to complete a wearying ascent, and once you're inside, the hills just continue. But you're rewarded for the workout with beautiful views of the Bosphorus. And if you become overly exhausted, you can sit under a tree on the grass, or grab a seat in a cafe at one of the park's three Swiss-style chalets, painted pink, white and yellow.
In picturesque Emirgan Park, the only group found in greater abundance than picnicking families is bridal parties. This is apparently the top spot in Istanbul for wedding portraits, and the sheer number of couples being chased around the park by photographers was absurd. At one point, we found ourselves trapped on a narrow bridge, between two bridal parties posing for pictures at either end. Not willing to risk trampling a dress, we escaped by hopping over a fence, and received a shrill reprimand from a nearby guard. (Whistle-armed guards patrol the grounds ceaselessly, and are comically aggressive in enforcing even the most minor regulations.)
Despite the hills, brides and guards, we loved our visit to Emirgan Park. It's hard to to think of a better spot in Istanbul to while away a lazy, sunny Sunday.
–Istanbul Rental Apartment Map