The Süleymaniye Mosque might not be as popular as the Blue Mosque, but it's arguably more impressive. This massive complex near the university was built for Süleyman the Magnificent and includes a library, a soup kitchen, an amazing courtyard, and the tombs of both Süleyman and his famous wife Roxelana.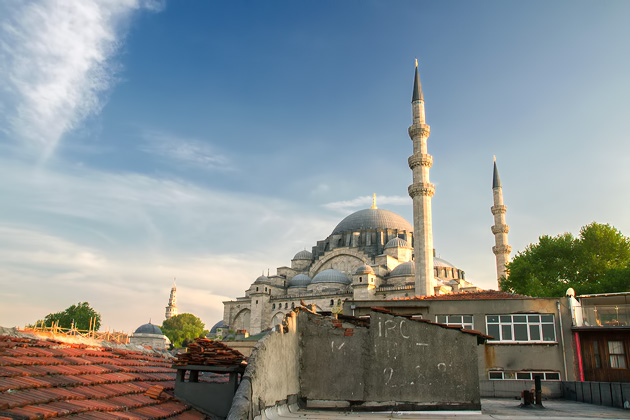 The woman who became known as Roxelana (the Russian) was born as Hürrem Haseki in the Ukraine. Exceptionally beautiful, she was kidnapped during her youth and brought to the harem of the Ottoman Court, where she soon captured Süleyman's eyes. So smitten was the sultan that he had his son Mustafa executed, in order to start a new family with Roxelana. After converting to Islam, the ambitious and wily Roxelana convinced the sultan to free her from slavery and take her as a wife. Quite a break with tradition: Süleyman was the first sultan in 200 years to marry.
Roxelana quickly established herself as a major political force in the Ottoman Empire, and became even more powerful after Süleyman's death and the ascension of Selim II, their son. As "Valide Sultan", or mother of the Sultan, she exercised enormous influence over her boy and the court. Selim had fallen far from the tree of his "magnificent" father, and went by a somewhat less awe-inspiring nickname: Selim the Sot. A drunkard primarily interested in orgies, Selim was happy to leave the business of running the empire to his mother.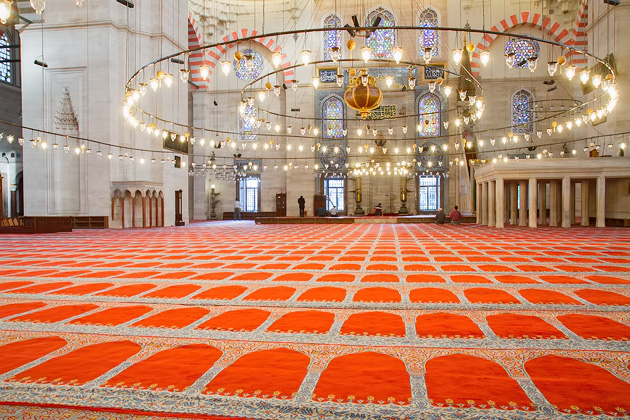 The Süleymaniye Mosque is the largest in Istanbul, and the crowning achievement of Mimar Sinan, whose tomb is in a lovely garden next door. Set atop a hill in the middle of the old town, the mosque and its four minarets are visible from all over the city. At 53 meters in height and 26 in diameter, the dome is breathtaking and sits atop a huge, empty worshiping area. Despite the mosque's size, visitors are restricted to a small section towards the front of the mosque, which is a shame.
Around the mosque are a number of buildings which once constituted the külliye, or complex. Four Koran schools, a hospital and a hamam joined a soup kitchen and an inn. Also present are the mausoleums of both Süleyman and Roxelana. Today, the former soup kitchen houses a fancy restaurant, with an atmospheric tea garden in a sunken courtyard next door. From the mosque's terrace, you can look over the Golden Horn and the rooftops of Eminönü.
It's incredible that so many tourists line up to visit the Blue Mosque, while so few make it out to the Süleymaniye. Both are worth-seeing, but the Süleymaniye Mosque offers the more enjoyable experience.
–Framed Istanbul Photos For Your Home