The Hans of the Grand Bazaar
The Grand Bazaar is really a city unto itself. The main thoroughfares are where you'll find the most popular shops and restaurants, but just like any city, the coolest spots are tucked away in its less-visited corners.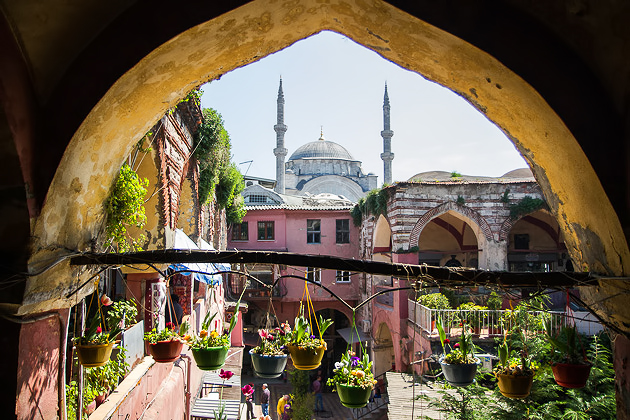 In days past, the hans of Istanbul functioned as inns; places for traveling merchants to rest and do business. Most frequently, the hans consisted of courtyards with a fountain for washing, and a kitchen or tea house. The Grand Bazaar, naturally, was a major hub for merchants, so it's unsurprising to find so many hans within its walls.
Most hans were dedicated to a particular craft, and many still are. You can find gold-spinning in Astarcı Han, chains in Zincirli Han and silver merchants in Kalcilar Han. Wandering through the courtyards, you can find smiths practicing their craft… melting gold, for example, or hammering out a piece of copper. Happily, they seem to be accustomed to tourists, and don't mind if you politely enter their shops for a quick photo. It's great fun watching them at work, performing tasks that have been unchanged over the last few centuries.
Most of the hans are small and run-down, but many are lovely. The Zincirli Han, for example, is particularly photogenic, with all-pink shopfronts, a marble fountain and trees. And our favorite is the airy and comfortable Iç Cebeci Han, where you can dependably find guys sitting around in the sun drinking tea and playing backgammon.
If you stick to the main drags, a trip to the Grand Bazaar can be hectic and stressful. So make sure to duck off into the little pockets of relative tranquility offered by the hans, and check out some of the activities which have kept the Bazaar running for 500 years.
Great Resource: Self Guided Walking Tours Through Istanbul's Hans