Sirkeci Station and the Orient Express
Favored by the kings, statesmen and spies of Europe's tumultuous 20th century, the Orient Express is almost definitely the most famous line in the history of trains. It linked the capitals of Western Europe to the Ottoman Empire, with a terminal stop in Istanbul's magnificent Sirkeci Station.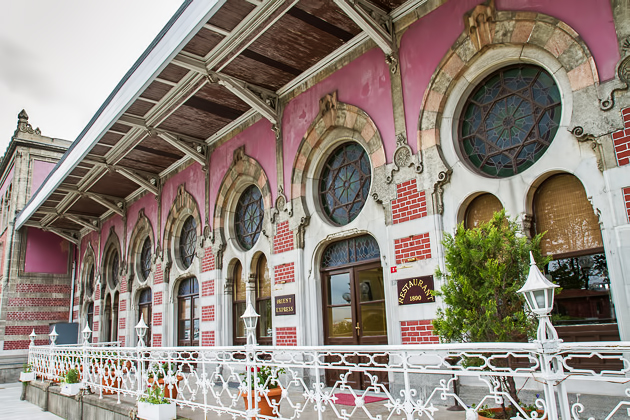 Today, Sirkeci Station retains only a fraction of its former glory. Built by a Prussian in the "European Orientalist" style, the building is beautiful, but has an atmosphere of decrepitude. It's old and dusty; a forgotten relic. The room where the upper crust of European society once waited on their departures, is now the hang-out of a rough-looking group of unemployed men. The former office of the Orient Express has been converted into a drab museum dedicated to the line's glory days. And the main entry hall of the station is today used as a stage for touristy whirling-dervish performances.
Things weren't always so dreary. When it debuted in 1883, the Orient Express was an instant hit. The Ottoman Empire had long been fashionable across Europe, and now there was a luxurious means of visiting it. With a route cutting through so many different countries, the train was a natural breeding ground for intrigue. Famous spies such as Robert Baden Powell and Mata Hari were among the passengers on board. And in 1929, there was a murder aboard the train while it was stopped by a snow storm; an event which inspired Agatha Christie's most famous book.
The museum is rather drab, and the experience of visiting Sirkeci is akin to walking around a graveyard. But we still enjoyed being there. We'd just watched the movie based of Christie's novel (the 1974 version starring Albert Finney as Hercule Poirot), and it was fun to be in a place of such historical importance. This is where Western visitors were first introduced to the Ottomans; in its heyday, it must have been quite a sight.
It's a shame that the Golden Age of rail travel is over. Were it still an option, I might prefer the slower trip by train, rather than plane. Squishing into the middle seat of a low-cost flight to Paris has none of the glamour of strolling onto the Orient Express. And choking down airline food while being elbow-jabbed by the fat Polish guy next to me is decidedly less romantic than a taking a seat in the restaurant car across from the erudite and charming Polish count whom the CIA has tasked me with seducing. Sigh. I guess was born a couple of generations too late!
Location of Sirkeci Station on our Map
–Follow Us On Twitter or Find Us On Facebook