Haydarpaşa and the Crimean War Cemetery
Even more "orient" than the Orient Express, the Baghdad Railway connected the future capital of Iraq to Istanbul. The western terminus was the massive Haydarpaşa Station, which is still one of the busiest train stations in Turkey. We spent a day exploring the magnificent old station and the neighborhood surrounding it.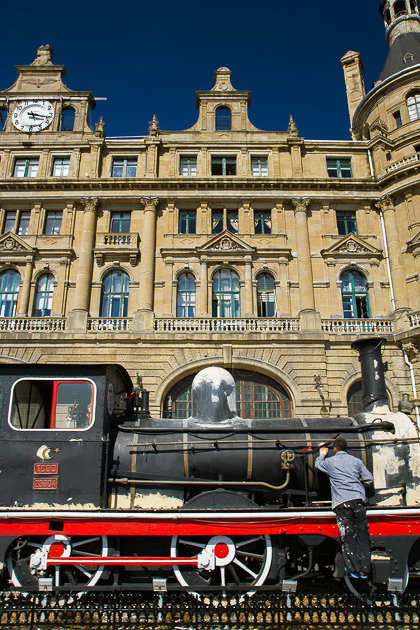 Completed in 1910, Haydarpaşa Station was designed in a neo-classical style by Prussian engineers, at the behest of Kaiser Wilhelm II. The Germans were big sponsors of the struggling Ottoman state, and were pursuing every tactical advantage before the onset of World War I. But the project, which would have given them access to the Persian Gulf, wasn't done nearly in time… the first train between Baghdad and Istanbul wouldn't roll out until 1940.
Though damaged during the war, the impressive station was restored and has become one of Asian Istanbul's most striking landmarks. Aside from the station, though, the neighborhood of Haydarpaşa is a traffic-heavy zone with none of the charm of nearby Kadiköy. Even here, though, we found a couple worthwhile highlights, including the giant central building of the Marmara University and, behind it, the British Crimean War Memorial.
One of history's first "modern wars", the Crimean War pitted the Russian Empire against a coalition of French, British and Ottoman over control of the Crimean Peninsula and basically resulted in a stalemate. Over 20,000 British soldiers died in this war, and many of them have been laid to rest here. The cemetery is peaceful in its way, but we felt chills while reading the names and ages of the soldiers, on gravestone after gravestone … 21, 23, 19. A memorial statue in the park, dedicated by Queen Elizabeth, honors the "brave men who gave their lives for their country". But you're left to wonder whether this obscure cause in a faraway land was truly worth so many young British lives.
-Read: Murder On The Orient Express
Locations on our Map: Haydarpaşa Station | British Crimean War Memorial Cemetery