Ortaköy: The Middle Village
Midway up the European side of the Bosphorus, Ortaköy literally translates into "Middle Village". Not the most enthralling of names, but this neighborhood does boast one of Istanbul's most eclectic populations. Turk, Greek, Jew… hipster, playboy, fisherman. Everybody has a place in Ortaköy.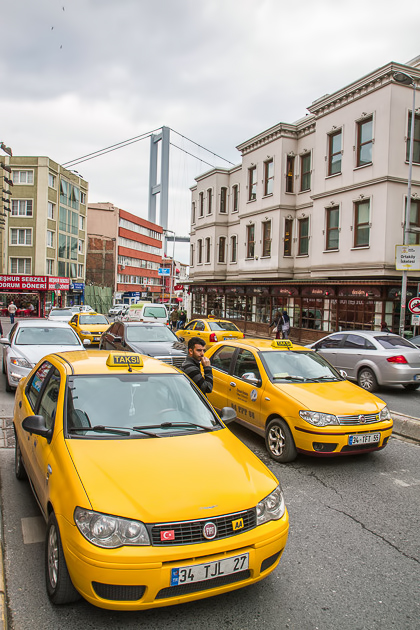 The weather was foul on the afternoon of our visit; grey, rainy and cold. Disembarking the bus (#25E from Kabataş), we popped open our umbrellas and trudged into the jumble of cafes and shops which make up the neighborhood's heart. Here, we were met with another disappointment: the gorgeous Ortaköy Mosque was completely covered up for renovation. Just underneath the Bosphorus Bridge, this is normally one of the city's most picturesque mosques. Hmph… the weather was too poor for pictures, anyhow, but this was not a good omen for our day in Ortaköy.
The bad luck continued at the neighborhood's popular Sunday market. We'd heard a lot about this market, with its original art works, unique gifts, and cool bohemian vibe… so, when it turned out to be chiefly chincy trinkets, cheap sunglasses and bead jewelry of the sort you can find anywhere, we were severely disappointed. There was a row of second-hand book dealers, and a couple stands with some interesting artistic creations, but overall this market wasn't anything special.
Despite the rain, the construction on the mosque and the boring market, Ortaköy managed to charm us. Since Ottoman times, this has been one of Istanbul's most cosmopolitan areas, with a healthy mixture of religions and ethnicities living in harmony. That diversity is still in evidence today, with a couple Armenian churches, a synagogue and a Greek Orthodox church joining the neighborhood mosques. And there's a nice mixture of bars and cafes, catering to everyone from hungry locals on a budget to more upscale joints with views over the Bosphorus.