Shopping Fever in Tahtakale
How much you enjoy the steep, jam-packed streets around the Rüstem Paşa Camii depends entirely on your point of view. Is it an exhilarating and chaotic shopping paradise, or an intolerable maze of pushy, obnoxious vendors? So visit only when you're in a good mood and well-disposed to both noise and hassle. Because it's not like Tahtakale is going to change for you. Tahtakale isn't gonna change for anybody.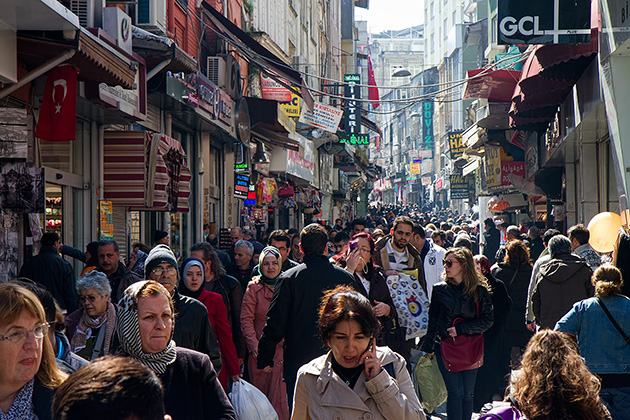 Luckily, we visited Tahtakale on one of those rare days when both Jürgen and I were in positive spirits. "Let's go shopping", I suggested. "Yes, perfect", came Jürgen's immediate reply. I have no idea what had come over us, because we never feel like shopping. Maybe it was the sun. In any case, we made a beeline for the jam-packed streets of Tahtakale, our pockets full of liras, feeling almost eager to get taken advantage of. It's like we were in a trance.
Soon enough, we were talking to a nargile (hookah) handler, who was so chummy that we instantly felt like old friends. We chatted about his family, our families, our project in Istanbul, our stay in Bolivia, and LeBron James. (Turkish men understand the geography of the USA in terms of its basketball teams. "Ohio" means nothing to them, but "Cleveland Cavaliers" will instantly kindle the light of recognition in their eyes.) It was a fun conversation… but where was our habitual skepticism? Our trusty mistrust of anybody selling anything? In the bewilderingly optimistic haze we were lost in, we felt only warmth and easiness.
And here's the amazing thing: as we said our goodbyes, our new friend the hookah handler didn't even try and push a sale. He had been genuinely happy just to talk for awhile.
We didn't end up buying anything during our day in Tahtakale, but had an incredible time anyway. Chatting with and photographing affable strangers. Sitting on tiny stools set up on the sidewalks, sipping tea. Sampling the lokum offered by the sweets store. Watching the lone and increasingly frustrated taxi driver fight hopelessly through the crowds. Hopping out of the way for bent old men rushing up the hill with boxes strapped to their shoulders.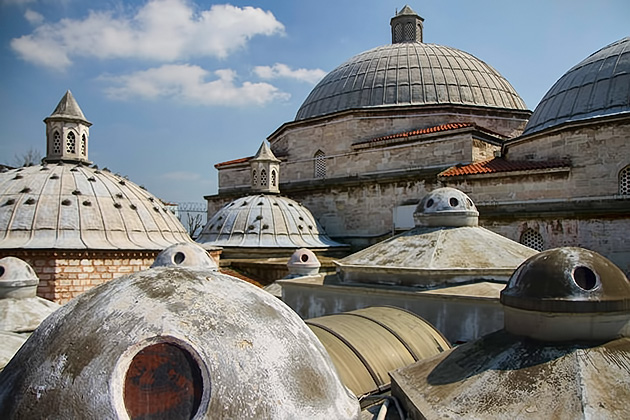 But the highlight of our day had nothing to do with crowds or shopping. Near the Rüstem Paşa, we encountered the entrance to the Tahtakale Hamam — an old bathhouse which is being converted into yet another marketplace. There were only a couple shops installed inside, but the entire hamam was open to exploration. Here, in the middle of one of Istanbul's noisiest neighborhoods, we found absolute, almost chilling, silence. The hamam was beautiful, with its star-shaped windows letting in the midday sun and old fountains that have long since stopped flowing. We even managed to access the roof. It was a strange discovery on one of the most enjoyable days we've yet spent in Istanbul.
Location of the Hamam on our Map