Before our arrival in Istanbul, we had no idea how much döner we were about to eat… Ach, who am I kidding? We knew exactly. Scarfing down plate after heaping plate of delicious döner meat was our plan from the very beginning. It's part of the reason we chose Istanbul in the first place.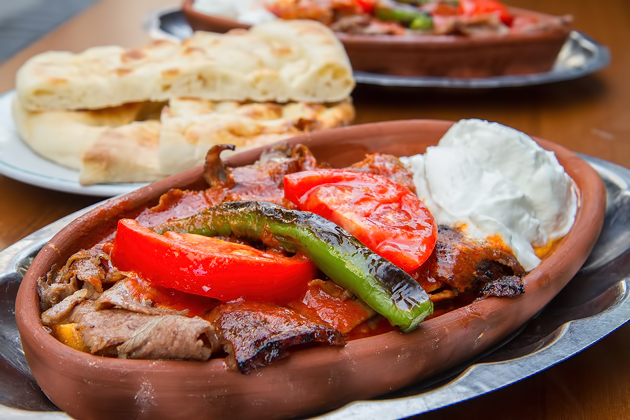 We had become addicted to döner during the five years we lived in Berlin. Packed into a bun with salad, and slathered with sauce, the German variation of döner makes excellent hangover food. But in Istanbul, it's served completely differently. Over the course of our 91 days here, we've had to open our minds and mouths to unexpected new döner horizons. Oh, how we have grown!
The vertical, spinning cone of meat is found on nearly every corner throughout Istanbul. The apron-wearing cook slicing off thin strips of meat is a beautiful sight, and just might be the quintessential image of Turkey. If you listen attentively, döner falling onto a plate sounds suspiciously like a chorus of angels. Or like the joyful laughter of children.
Usually, the meat on a döner cone is lamb, but you can also find beef and chicken. The standard plate, a porsiyon, is nothing more than slices of meat served with a bit of salad. You can also get it piled on top of rice. My favorite, though, is the İskender variation, which is a specialty of Bursa. This is döner meat served atop heavily-buttered pita bread, and then drenched in yogurt and tomato sauce. With a helping of french-fries mixed in. I just heard your stomach growl! Don't be ashamed, mine is growling, too.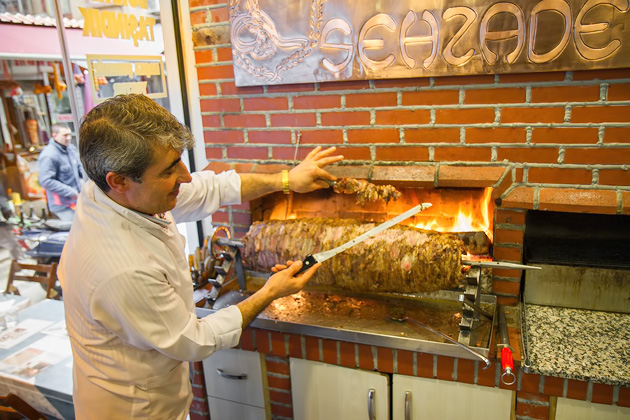 Another interesting variation is the Çağ Döner, where the meat cone has been laid on its side, and is being rotated over a pit of coals. The cook pierces the meat with long skewers, and then cuts the döner slices directly onto them. This is usually served with flatbread and salad.
For a quick bite, we frequently ordered Dürüm Döner, which is like a döner burrito. Just wrapped up meat with salad and tomato, these cost less than the porsiyon, and provide a good fix when you're in need.
Ah, döner. I love you, but to be honest, it will be good for our relationship if we take a break for a while. It's not you, it's me. I can't control myself when I'm around you, and fall into fits of violent jealousy when I see others eating you. I want you all to myself. And when I look in the mirror, I don't like the shivering, smear-mouthed mess staring back at me. So for my own good, farewell. But despair not… I doubt it will be long before we meet again.