Rumeli Kavağı and Sariyer
The two northernmost towns on the European Bosphorus are Sariyer and Rumeli Kavağı. Sariyer is more developed and wealthy, trapped between a dense forest and the water, while Rumeli Kavağı is a quiet seaside village with a convivial atmosphere.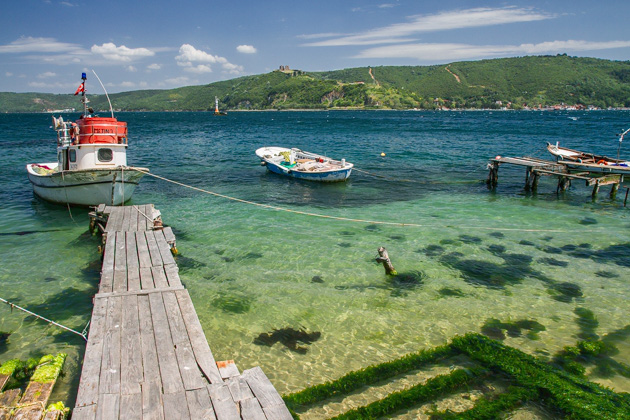 Rumeli Kavağı is easy to visit as part of the city-run Bosphorus Tour. The long ferry ride up the strait pauses for three full hours at Anadolu Kavağı, allowing you plenty of time to catch a local boat across the strait to Rumeli Kavağı. This picturesque little town is intimately connected to the sea, with boats, fishermen and fish restaurants dominating life and commerce, and is almost completely skipped by tourists.
The boat also stops here on its way back to Eminönü, so if you want, you can re-board. We, though, decided to instead walk two kilometers down the Bosphorus to Sariyer. This is a bustling neighborhood which, despite being so far from the city center, is well served by public transportation and has become a popular place for retired Istanbullus to settle down.
Locations on our Istanbul Map: Rumeli Kavağı | Sariyer