Büyükada – The Big Island
With a name that literally translates to "Big Island", Büyükada is the largest of Istanbul's nine Princes' Islands. We spent a day biking from one end to the other, enjoying fabulous views of the sea, swimming with jellyfish, climbing hills and finding ways to escape the crowds.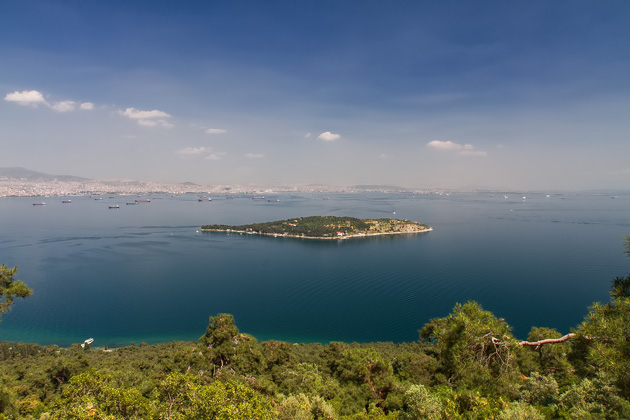 After disembarking the morning ferry, we hunted for a bike to rent and went straight to the shop with the newest-looking bikes on display. After receiving the payment, the guy took us past the nice bikes, around into a back alley and hauled much older bikes out of the shop's garage. Shenanigans. We could have (and probably should have) complained, but were keen to avoid stress. Büyükada had already cast its "chill-out" spell on us.
Not even hordes of screaming Turkish high-schoolers could ruin our relaxed vibe. After having visited Burgazada on Easter Sunday, we had sworn to never return to the Princes' Islands on a weekend… and so, we choose to visit Büyükada on a Monday. Little did we know, however, that this particular Monday was a school holiday. Every teenager in Istanbul was on our ferry, and they were all in exuberant, screechy spirits. Luckily, most of them made a beeline for the first beach and we quickly found peace.
At Yörükali Beach, on the southwestern end of the island, we paid 15 lira apiece and walked down a long path to the sea. The cover charge is apparently a way to keep the kids out, because we were completely alone except for a British couple and a few shirtless Turkish guys working on a new boardwalk. Acceptable. The sea water was cool and refreshing, and I would have stayed in hours but for the jellyfish.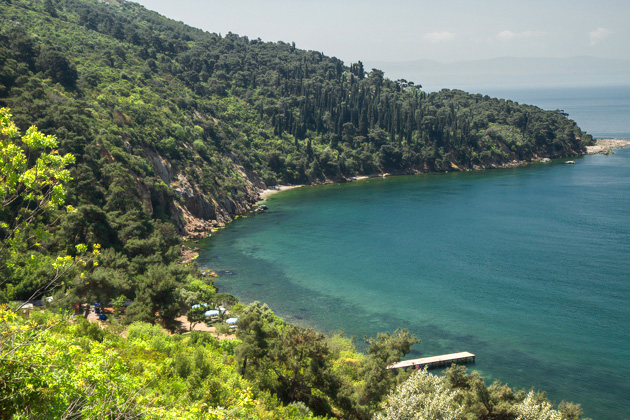 For lunch, we biked to the center of the island, where roads converge in a mad intersection full of bikes, tourists and donkeys. This is the central nexus of the island, where you can grab lunch or choose to climb one of Büyükada's giant hills… or have a donkey climb them for you. We felt guilty about burdening the poor beasts, so locked our bicycles and walked up. At the top of the southern hill, we found the Greek church of St. George, and a surprisingly affordable restaurant with a view of the Marmara Sea.
After eating, we punished our aching legs even further, and hiked up the other of Büyükada's big hills to an abandoned Greek orphanage. This massive wooden building was falling apart, and a little creepy, so I wasn't upset when we weren't able find a way inside. From here, we returned to the ferry terminal. The great majority of Büyükada's 7000 residents live on the northern side of the island, and hidden among the impressive mansions is a dilapidated home which hosted Leo Trotsky for four years.
This was a fantastic excursion, perfectly manageable in a day. It might be the busiest of the Princes' Islands, but Büyükada has a lot more to do than Burgazada, and is the more lovely of the two. We never made it to the other islands (Heybeliada and Kınalıada) so are unable to conclusively judge which is the best, but it's hard to imagine a more satisfying day out than the one we enjoyed on Büyükada.