SALT and the Ottoman Bank Museum
Established in 1856, the Ottoman Bank was a part of a comprehensive effort to modernize the flagging Ottoman Empire. Today, its former headquarters in Galata is home to SALT: a non-profit organization dedicated to art, architecture and urbanism.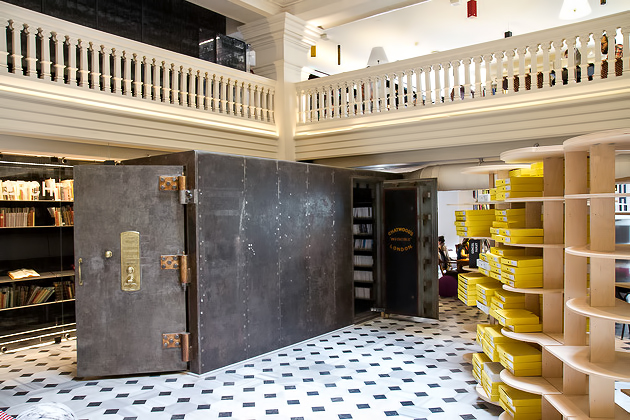 The ambitious period of reform known as the Tanzimat Era introduced a number of new concepts to the struggling Ottoman Empire, which was trying to reorganize itself along the lines of more successful Western countries. Post offices, a national anthem, civil rights, the abolition of slavery, a census, modern universities, the decriminalization of homosexuality, and many other novelties were force-fed to a bewildered Turkish public between the tumultuous years of 1839 and 1876.
The former headquarters of the Ottoman Bank can be found on Bankalar Sokak, near the entrance to the Karaköy Tünel station. The northern facade, facing the foreigner-dominated neighborhood of Galata, was designed in a European, neoclassical style, while the south-facing side, visible from the old town across the Golden Horn, is neo-orientalist. The bank itself was seen as a bridge between east and west, and its headquarters symbolized this brilliantly in its architecture.
Today, in the basement, you can find the Ottoman Bank Museum. "Bank History" is not a topic I usually get excited for, but the exhibits on display are surprisingly engaging. You can visit the old vaults where gold was kept, and browse folders full of portraits of the bank's 19th-centuries employees (most of whom, of course, sport fabulous mustaches).
On the first floor of the old bank building, SALT has installed an amazing public library focused on art and architecture. There's also a cafe, a bookstore and, on the upper floors, spaces for temporary exhibitions and conferences.
SALT has another seat on nearby İstiklal Caddesi, which is one of the coolest galleries we visited in Istanbul. Temporary exhibits rotate through constantly, along with performances and films. We saw a retrospective on the work of subREAL: a Romanian art duo that "undertakes political, social and cultural criticism with a sharp sense of humor while creating a vigorous visual language". Modern and eclectic, i's exactly the type of thing you can expect to find at SALT. Considering its cost (free), SALT Beyoğlu is worth visiting regardless of what's on, but you can check the current exhibitions at their website.
Locations on our Istanbul Map: SALT Galata | Beyoğlu