Manti are best understood as Turkish tortellini. There's very little to distinguish them from their more famous Italian cousins. Pockets of dough stuffed with meat, potato, cheese, spinach, or anything else, this delicious Turkish staple immediately won a place in our hearts.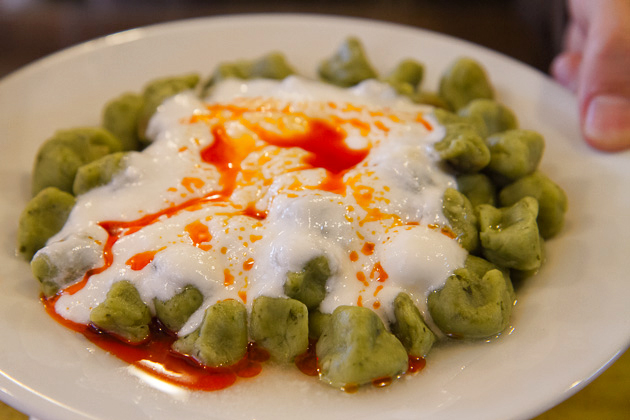 The classic manti are tiny, peanut-sized dough pockets filled with meat, usually lamb, and served in a bowl with a healthy wallop of yogurt and garlic sauce. Their diminutive size makes it easy to scoop up four, five, ten at a time. We most enjoyed manti, though, because of their versatility. I never had two plates which were the same. Wheat-flour manti filled with lamb, green manti made of spinach. Potato manti. Large, dumpling-sized manti filled with fish. Fried manti.
The best spot we found for the dish is Hingal Manti, at the foot of the Büyük Çamlıca in Üsküdar. It's a small restaurant, with just a few tables inside, but they serve up some very large manti. These bigger "hingal" dumplings are a traditional dish from Dagestan, and they come in a variety of flavors, from salmon to walnut. We each ordered sampler plates, and found it difficult to decide upon a favorite type.
Another excellent spot to try the dish is Bodrum Manti, in the charming village of Arnavutköy, where we first sampled fried manti. Like Hingal, Bodrum has a wide selection to choose from, but also boasts a great seaside location in our favorite Bosphorus neighborhood. And when our waiter brought out a plate of ice cream on the house, Bodrum won our eternal approval.
Locations: Hingal Manti | Bodrum Manti