There were experiences I expected to have during our time in Istanbul: eating delicious döner and baklava, visiting mosques, and ferrying across the Bosphorus. But exploring the innards of a decommissioned WWII-era submarine? Nope, I wasn't expecting that one.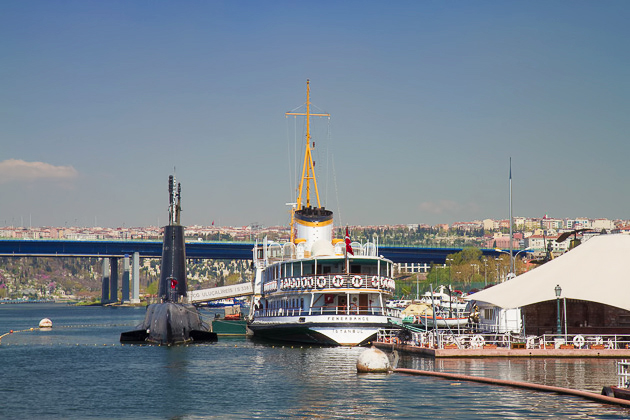 Found on the northern banks of the Golden Horn, the Rahmi M. Koç Museum is definitely not on the list of typical Istanbul tourist experiences. This is Turkey's first museum "dedicated to the history of transport, industry and communications", and it offers a comprehensive tour through the world of machinery. Although the museum is geared toward kids, Jürgen and I had an excellent time. We explored old trams, climbed up into the cockpit of small military planes, saw early bicycle designs, guessed at the makes of antique cars, and even had the opportunity to enter a submarine.
The US sells its decommissioned military equipment to its allies, so sometime after WWII, Turkey ended up with some of our old submarines. One of these, the USS Thornback, sits in the water just off the shore from the museum. Built in 1944, the Thornback battled the Japanese during WWII, and would go on to serve 28 years in the Turkish Navy. We paid a little extra for a tour of the boat, led by Mr. Ahmet Malalan, a former sailor.
This was my first time in a submarine, and I felt strangely elated. Like a kid, I wanted to touch everything: the torpedo chutes, the radio dials, the big red buttons. But I kept myself in check and behaved like a self-respecting adult… until I saw the periscope. There was no resisting that.
The Rahmi M. Koç Museum provided an unexpectedly fun day. Anybody interested in industrial artifacts, or perhaps those who've had their fill of mosques and ancient art, should make the trip.
Rahmi M. Koç Museum – Website (English)
–Download Our Travel Books Here