Our First Hamam: The Kılıç Ali Paşa
It's hard to imagine that we could have found a better place for our first Turkish bath than the Kılıç Ali Paşa Hamamı. This historic hamam in Tophane is one of Istanbul's most beautiful, reopened in 2012 after years of restoration. We were invited to visit on a Sunday afternoon.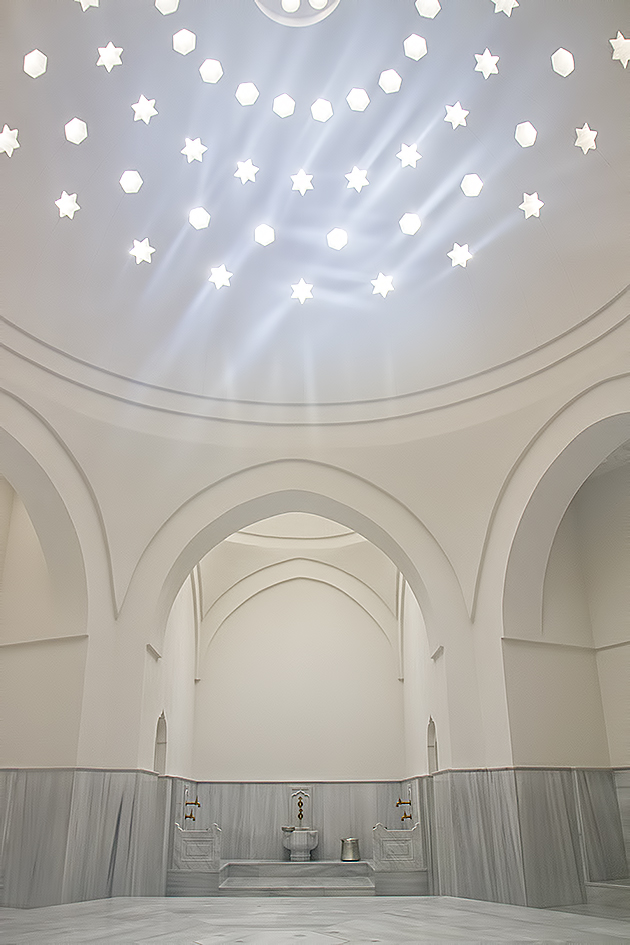 Contemporary Turkish hamams find themselves in a difficult position. For centuries, these public bath houses were an integral part of Ottoman life. Islam places great significance on cleanliness, and hamams were the only place to go for a hot, soapy bath. They were buildings of such importance to society, that the empire's greatest architects were often employed to design them. But then came the advent of indoor baths with hot water, and the primary function of the hamam vanished. Sure, they were still pleasant communal areas to meet friends and catch up on gossip, but for day-to-day life, taking a hot shower at home was a lot more convenient.
What to do? These are buildings of great architectural beauty, and you can't just let them sit around empty. Luckily, hamams generate a lot of interest from visitors. For many, a trip to Istanbul would be incomplete without experiencing the famous Turkish bath. So in order to survive, many of Istanbul's hamams have reoriented themselves to serve tourists.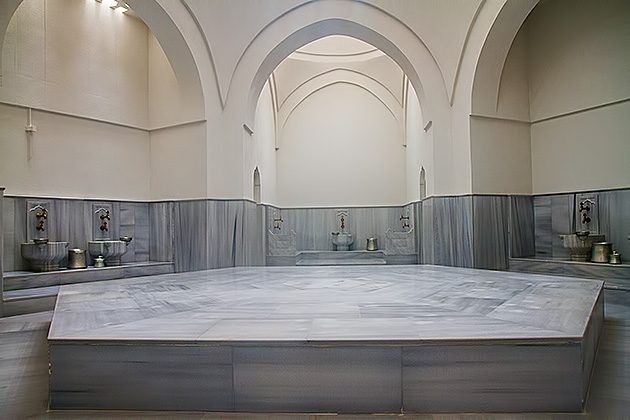 Built in 1583 by the master architect Mimar Sinan, the Kılıç Ali Paşa Hamamı is incredible, all domes, white marble and water. After decades of neglect, it was purchased privately and beautifully restored by its new owner, who was intent on returning it to its original purpose. The interior bathing room is stunning, with a large marble stone in the center, bathed in rays of light. Looking at it, I could hardly wait to get my clothes off.
And I soon did. While I was heating my body on the stone, hypnotized by the star-shaped holes in the ceiling, an assistant came to fetch me. He sat me down at a sink, grabbed my wrist, lifted my arm into the air, and began to scrub me with a rough sponge-glove. After scrubbing the dead skin off every inch of my body, he soaped me up with something called a "loofah": basically a cloth sack that's pulled tight to produce an unbelievable amount of foam. He remained silent throughout the procedure, and was extremely thorough. Hamams are not for the modest. Or ticklish.
Eventually, he finished, and I don't know if I've ever felt more clean. I was helped into a big, comfy robe and then led into the lounge area to relax with sherbet and tea, before my massage. For 25 blissful minutes, my back and legs were worked by strong, professional hands. At the end of the session, after being cleaned, rubbed, scrubbed, and massaged, I was amazed to find myself hovering in the air. I floated out of the hamam, up the hill to our apartment and settled slowly onto our couch, like a leaf falling onto a patch of soft grass.
The Kılıç Ali Paşa Hamam – Website
Location of the Kılıç Ali Paşa Hamamı on Our Map