Lunchtime in Eminönü
Download our Istanbul Travel Book
Hungry for lunch? Then join the throngs heading for the semicircular Eminönü Plaza, on the western side of the Galata Bridge. "Why? What's there to eat?" you might be asking. Well, try not worry about that quite yet!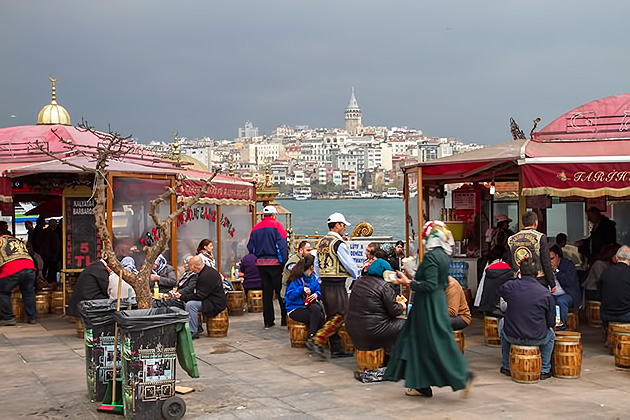 This plaza between the Galata Bridge and the Bosphorus Ferry Terminal is one of the most popular places in the city to grab a quick and cheap lunch. Three restaurants floating on the riverside offer the exact same thing — fish sandwiches. Just step right up, hand over 5 TL and grab a seat at the first available stool. Lather your sandwich with diluted lemon juice and salt, and dig in!
Don't walk over to the edge and peer into the murky river from which the fish are caught… stop that! Instead, look around you. Look at the funny little waiters dressed in Ottoman-era costumes! Isn't this fun? Look at the other customers, mostly locals, happily enjoying their fish sandwiches. Hey, I said to stop looking at the water! Just close your eyes and concentrate on the fish. It's good, right?
Chowing on a grilled fish sandwich really works up a thirst, doesn't it? You know what sounds really delicious right now? You got it: neon-red vinegary pickle juice. You're reading my mind! Yes sir, put a cup of that sweet stuff right here. So vinegary, so full of pickles and radishes… so bright! Mmmm, that's the taste of a new, slightly disturbed, generation.
So, a meal in Eminönü is kind of an adventure, but in truth the pickle juice is not totally undrinkable and does complement the fish sandwich — which is just as delicious as a grilled fish sandwich should be. The experience is fun, and the price is great. You can also find non-fishy foods in the plaza, such as chestnuts, simits, corn ears and döner, and with the boisterous, almost carnival-like atmosphere and the view of the Galata Bridge, it's an excellent place to grab a quick bite.
Just make sure to save room for dessert. There are stands offering Halka Lokma Tarifi, which are freshly-fried donut balls topped with ground pistachio. Or those with an even sweeter tooth can try out the Tarihi Osmanlı Macunu (Traditional Ottoman Candy): five different flavors of thick taffy spiraled deftly around a stick, creating a delicious lollipop.
–Travel Insurance For Instanbul. Receive Quote Right Away!