The Remains of the Hippodrome
An arena nearly half a kilometer long, packed with 100,000 howling fans. The emperor seated with his family in the imperial loge, disinterestedly following the proceedings. Hundreds of golden statues, columns, monuments and treasures decorating the track. And the thunderous sound of 32 horses, galloping under the whip's cruel crack. Oh, to experience the Hippodrome during Constantinople's Golden Age!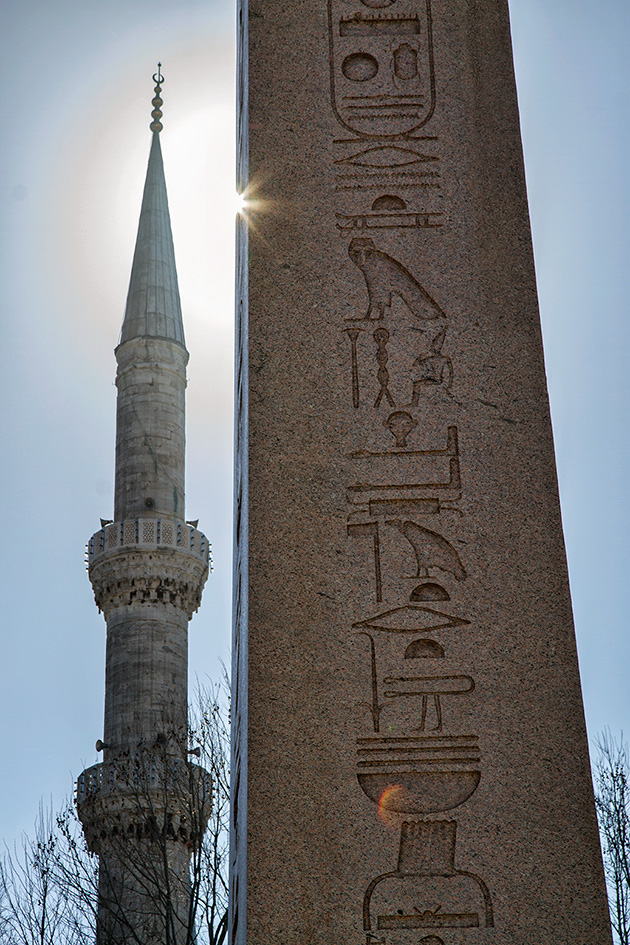 Little remains of this once great public arena. The Hippodrome, built in the 3rd century, had fallen into disrepair long before the Ottomans claimed the city in 1453, and the new rulers of Istanbul had little use for chariot racing. But the arena's general shape survived in the form of Sultanahmet Square, and one chunk of its massive retaining wall is still visible in the southeast corner. So it's not difficult to get a sense of the Hippodrome's former size.
Of the many monuments which were once lined up along the track's spine, only three remain. Coming from the south, the first of these is the Walled Obelisk: 32-meters in height and with the appearance of a mid-game Jenga tower. It had been covered in gilded bronze until the Fourth Crusade, when Europe's Christian soldiers decided to end their "holy quest" by sacking their Christian brothers in Constantinople. By the time they were done looting, the Crusaders had stripped the Walled Obelisk bare.
Meters away is the Serpentine Column: a strange spiral of weathered bronze. There had originally been three snake heads atop the column, which was taken from Delphi at the command of Constantine the Great. This is one of humanity's oldest Greek treasures, crafted in 478 BC as an offering to Apollo, following the legendary Battle of Plataea in which an over-matched alliance of Greek states defeated the powerful Persians of Xerxes I. The column's snake heads were lopped off sometime during the Ottoman regency of Istanbul, but one can still be seen in the city's Museum of Archaeology.
The Serpentine column's age is impressive, but the Hippodrome's third monument is even older. A lot older. The Egyptian Obelisk was originally erected in Luxor sometime around 1450 BC. That's about three and a half millennia ago. Give or take a century. Made of red granite, it's in unfathomably good condition, despite being moved to Constantinople by Theodosius in 390 AD and re-erected in the center of the Hippodrome.
The obelisk is covered in bizarre Egyptian hieroglyphs and its nearly perfect condition just adds to its mysterious aura. Many believe it to be imbued with magical powers and, while I've never been one to buy into mysticism, it's hard to remain completely skeptical while in its presence.
Location of the Hippodrome on our Map