A Southern Turkish Feast at the Akdeniz Hatay Sofrası
Serving up traditional food from Hatay, Turkey's southernmost province, the Akdeniz Hatay Sofrası is a family-owned and operated restaurant which has won a lot of press and gained a loyal following since opening in 2007. We were invited to sample some of their best dishes one early Monday evening… and that's not the kind of invitation we're ever going to turn down.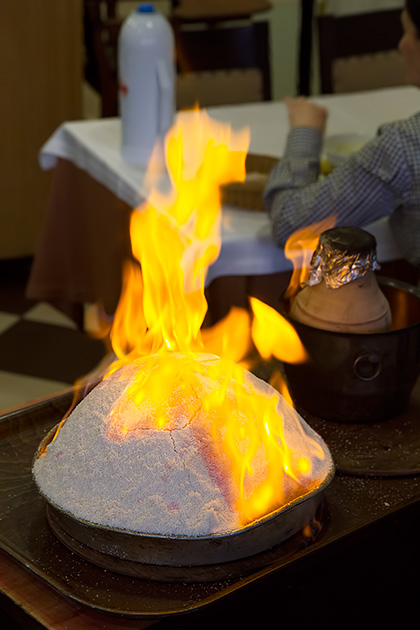 Hatay, squished between the Mediterranean and Syria, has always been an object of contention. Syria argues that Turkey stole the province by rigging the 1939 referendum in which Hatay's citizens voted to join Turkey. Today, the matter is mostly settled, but Syria has never officially withdrawn its claim to the province. Hatay's climate is warmer than the rest of Turkey's, and their cuisine more Middle Eastern.
We met Mehmet at the doors to the Akdeniz Hatay Sofrası, in the neighborhood of Askaray. The son of the restaurant's founder, Mehmet spent the afternoon with us, introducing us to the food of Hatay and even allowing us into the restaurant's kitchen to take photos. The Akdeniz is consistently crowded and employs a huge staff, but despite the congestion, the chefs didn't seem to mind our presence, and it was a lot of fun to watch them work.
The restaurant's claim to fame is the Tuzda Tavuk — a chicken stuffed with rice, packed in rock salt and then shoved into a huge wood-fired oven to bake for two hours. When ready, it's wheeled out to the table and set on fire. After the flames are extinguished, the waiter chisels at the rock-hard salt shell until the chicken emerges golden brown and perfectly cooked from its igloo-like prison… and not all that salty. But the highlight is the rice, which is mixed with allspice, currants, crushed almonds and pine nuts. You can also order the same thing with lamb instead of chicken.
We were also able to try the Cerra Kebab, which is a leg of lamb baked inside a clay pot, with garlic, onion and spices. At the table, the pot is smacked open and the steaming contents poured out into a bowl. Just as delicious as the chicken, and more succulent. I could have eaten two pots full.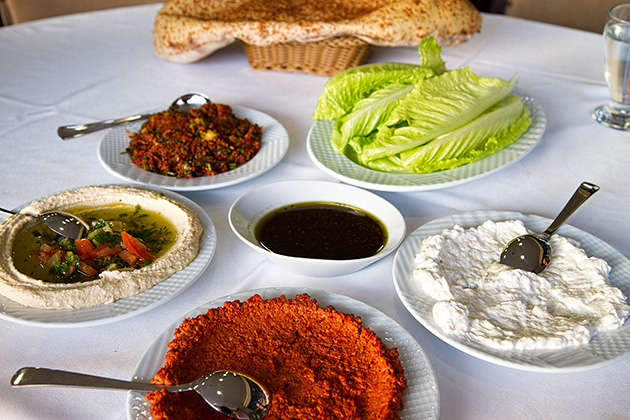 Before the main dishes appeared, Mehmet had selected a few of his favorite meze, including humus, muhamarra (a spicy red chili paste with walnuts), tebbuli (white thyme salad), mütebbel (yogurt eggplant sauce) and kısır (a reddish salad of wheat, parsley and tomato paste). I had assumed humus would be a normal part of Turkish cuisine, but it's actually more Middle Eastern; this was the first time I'd seen it in Istanbul. The mütebbel was possibly my favorite of the bunch, or perhaps the white thyme salad. Or the perfectly spicy muhamarra. It's hard to say.
We had polished off enough food to sustain a camel for months, and our stomachs were bursting. So when dessert arrived, I suspected that Mehmet was deriving some sadistic joy out of torturing us. But if the torture is being "forced" to eat künefe, you can't complain too much. You just sit there, endure your punishment, and enjoy every last bite of it. Künefe is Hatay's most famous dessert: layers of flour and goat cheese, caramelized on top and served with a big glass of milk.
Considering how long the main dishes need to bake, you should call ahead well in advance to both order and reserve a table. But don't miss out on the best place in Istanbul to try some of Turkey's most distinctive cuisine.
Akdeniz Hatay Sofrası – Website