It was a sunny Sunday morning, perfect for our first foray into Asian Istanbul, so we hopped on a ferry and headed over to Üsküdar. Originally settled by the Greeks as Chrysopolis in the 7th century BC, Üsküdar's founding actually predates that of Byzantium.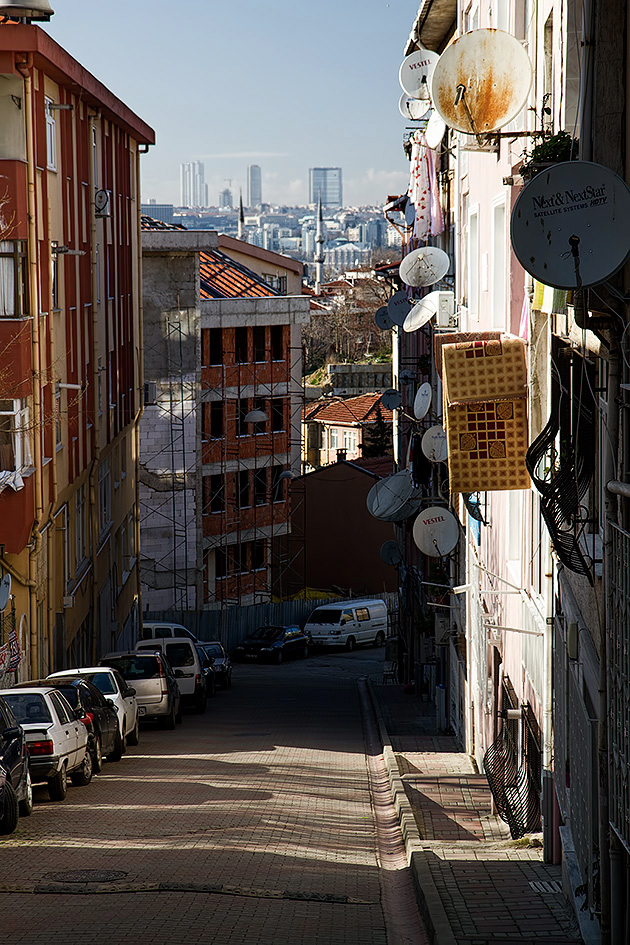 To get a sense of how insanely populous Istanbul is, consider this. Üsküdar comprises just a small section of the city, but half a million people are packed into its eighteen square miles. If just this section of Istanbul were a city in Idaho, it would be by far that state's most populous. More than twice as many people live in Üsküdar as in Boise.
Throughout the day, we were struck by the neighborhood's radically different atmosphere; apart from the Bosphorus and the hills, it's nothing like the Istanbul we've been slowly growing accustomed to. Quieter and more conservative, Üsküdar has historically been home to poorer families transplanted from the Anatolian countryside. English is rarely heard here, and there are few tourists underway. Amazing, considering how easy it is to reach. We saw only one other foreign couple the whole day.
Perhaps for that reason, we found the locals here a bit warmer than in Beyoğlu or Sultanahmet. We sat down at a tiny side-street stand serving tea (and only tea), and the kid working there nearly wet himself when I tried to order in Turkish. Later, we asked an older man for directions, and he walked with us for ten minutes to show us the way. He was so friendly, it hardly mattered that he was leading us in the totally wrong direction. And after playing with her pug, we got into a long chat with a woman in Doğancilar Park. She had spent fifteen years living in Bremen, and was obviously eager to give her German a workout.
We ended our day with a walk down at the seaside, enjoying the views of Istanbul's European profile across the Bosphorus. A long stretch of the coastline is dedicated to sea-facing benches outfitted with pillows, and waiters who serve tea and coffee. Stoked by a day of walking, our appetites were raging, so we sat down at Filizler Köftecısı, a large and popular restaurant which serves up köfte: ground beef packed into meatballs or patties. With our bellies full, we lingered for awhile to enjoy the view of the Bosphorus from the terrace before returning to the ferry.