Yerebatan Sarnıçı – The Sunken Cistern
Hundreds of underground cisterns lurk beneath the surface of Istanbul, the largest of which is the Yerebatan Sarnıçı, or the Sunken Cistern. Built by Constantine the Great in the 4th century to provide water to his palace, it's survived the ages in remarkable form.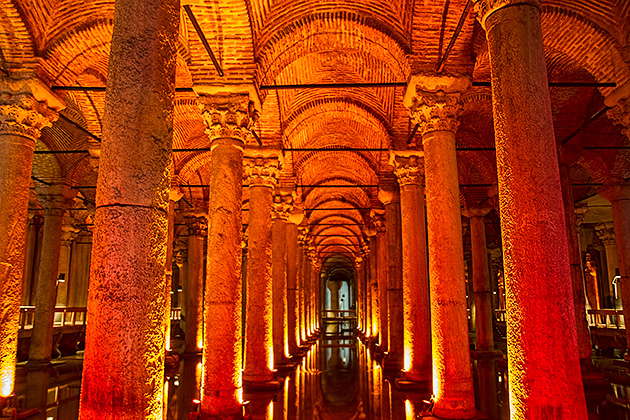 Descending the stone stairs into the Sunken Cistern, it's clear that you're stepping down into a darker, older world. There are modern day touches — raised platforms with handrails, warning signs, audio-guides, hordes of tourists, music playing over loudspeakers, bored attendants cajoling you to dress as a sultan for a picture, and flashing cameras — but they're easy enough to filter out. After all, one of the ancient world's most hauntingly beautiful treasures is lit up before your eyes.
There are only a couple feet of water left in the cistern, but that's enough for giant carp to swim around in, and it nicely reflects both the rounded arches of the roof and the 336 columns arranged in a symmetrical 12×28 grid. These supporting columns, thought to have been pilfered from sites around the Roman empire, are of various styles. Many are completely unadorned while others are capped with Corinthian floral designs. I saw one that was square, and another patterned with teardrop-shaped peacock feathers.
The cavernous cistern with its giant pillars and water dripping from the ceiling would make a great setting for the climactic scene of an old fantasy epic. It's easy to imagine Perseus slowly advancing through the cistern, aware that danger might be hiding behind any one of the columns. He holds his sword and shield at the ready, while the sound of serpentine hissing echoes through the hall. Behind a few columns, he encounters scowling demons and jumps back, ready to strike. But no. They are only statues; hideous statues of men screaming in pain and confusion. "Where are you, Medusa?", Perseus screams. "By Zeus's thunder, where are you?"
Turns out, the Gorgon actually does lurk in the shadows of the Sunken Cistern. Overturned Medusa heads form the base of two columns in the far back corner. One is fully upside-down, while the other has been turned onto its side. They were placed in the cistern for protection — Medusa has often been used as a charm against evil (which we learned while puzzling over Sicily's flag) — and have been flipped over to counteract the terrible power of her gaze.
We had an incredible time in the Sunken Cistern and, although a comprehensive tour doesn't need to last any longer than twenty minutes, we stayed for almost an hour to soak in the atmosphere. For the best experience, arrive when the doors open. At 9am, we found the cistern almost entirely empty of other tourists, but it was becoming intolerable by the time we left.
Location of Yerebatan Sarnıçı on our Map
–Framed Photos Of The Medusa Head Are Available In Our Online Gallery