Ciğer Şiş – Liver Shish Kebab at Canim Ciğerim
At the last second, I nearly lost my nerve and ordered chicken. But I stayed strong and, in a confident voice, ordered the "Ciğer Şiş": the Liver Shish Kebab. At least, I think I sounded confident. I might have whimpered a little, but if the waiter caught it, he didn't let on.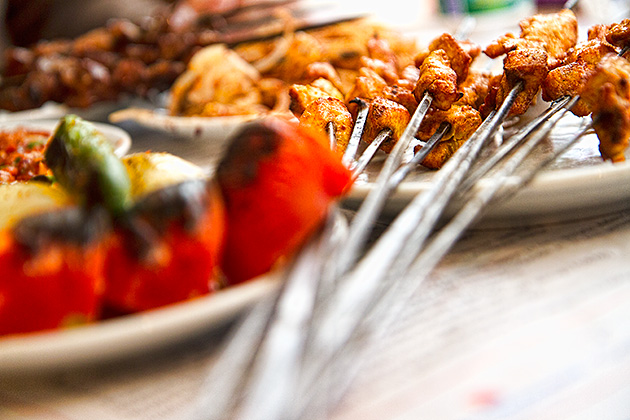 Jürgen and I travel a lot, but that doesn't exactly make us Anthony Bourdain. We love trying out the cuisine of different cultures, but neither of us have too wild a palate. When backed into a corner, I'll steel my resolve and do something like schluck down wriggling, raw octopus in Busan, or munch cow tongue in Bolivia. Generally, though, I stick to offal-free dishes made of normal cuts of meat I can identify.
But I'm trying to evolve. Istanbul has an insanely varied and world-renowned cuisine, and I swore not to be a culinary wimp during our three months in the city. So when we chose to have lunch at a restaurant named "My Liver, My Dear" (Canim Ciğerim), I knew I was going to order the liver. I had to. ("No you don't!" hissed my inner-coward).
Our meat took a while to sizzle on the shish but when it arrived, I couldn't believe my eyes. I had been expecting three, possibly four skewers of liver. This was one of our first meals in Turkey, and I was unaccustomed to the serving sizes. The waiter plopped onto our plates twenty skewers full of meat. Ten liver shish kebabs for me, ten chicken for Jürgen.
God help me, I ate all of it. After a quick lesson in the art from our waiter, I was ready to attack my liver. You hold a piece of flat bread around a skewer, and pull the meat off into it. Then, you pile whatever you like onto the bread. With the colorful condiments crowding our table (pink radishes, yellow peppers, red sauce, green leaves) this felt a little like painting on canvas. Except that it's a delicious painting made of food which you immediately roll up and consume.
The liver was rich, chewy and tasted only slightly of iron, and any nervousness I'd been feeling evaporated with the first bite. This tiny restaurant in Beyoğlu was an excellent find, and although I don't know if liver will make it onto my Favorite Foods list anytime soon… at least it can be removed from the list I've labeled "Terror/Puke".
Location of Canim Ciğerim on Our Map