Istanbul, one of the world's great cities, was going to be our home for the next 91 days. Minarets, mosques, harems, hamams, kebab, coffee, Turkish delights, towers, castles, islands, whirling dervishes, Greeks and Ottomans, hills, ferries, markets and music… it's enough to make the experience-hungry traveler delirious. We knew we'd have to hit the ground running, because there was going to be a lot to do.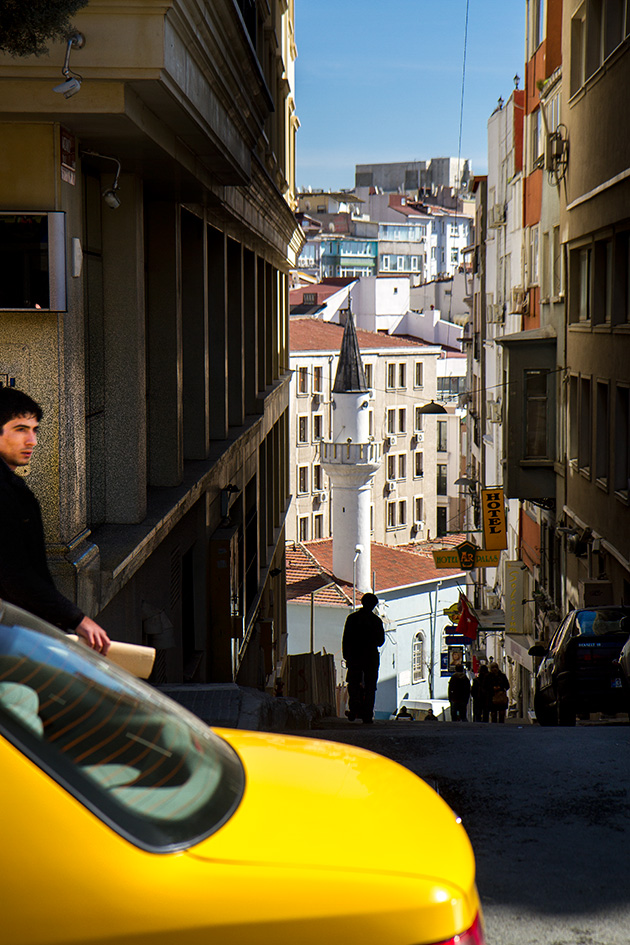 It was a Tuesday evening when we arrived at our apartment in Cihangir, a hip neighborhood in the Beyoğlu district which is popular with artists and foreigners. After the long day of travel, we should have been content with an evening on the couch and an early bedtime but, eager to explore, we bundled up and went out into the streets. In Cihangir Square, we settled down at a cafe to do some people watching.
Trendy scenesters with tasseled scarves had occupied the table to our left, while a group of effusive American students were to our right. A couple guys were plastering posters for a rock concert onto a nearby wall, and the decidedly non-Turkish sounds of Depeche Mode were wafting out of the bar behind us. Everyone was smoking, and the liquor store across the street was doing steady business. Were we in the right country? All the preconceptions I had carefully constructed about Istanbul were lying in shards at my feet. (One of these broken shards, for example, was reflecting a man with a bushy mustache and a fez; embarrassed, I kicked it underneath the table before anyone could see it).
But as the sun set, the calls to prayer sounded from the minarets which, I suddenly realized, were surrounding us. Along the sidewalk, a group of women in headscarves pushed impatiently by another, older group of women in headscarves. We were sipping on strong Turkish coffee, and eating rich pastries of honey and pistachio. The kebab-seller on the corner had whittled his döner stick down to the last nibbles. Alright, were were definitely in Turkey… just not quite the Turkey I had been expecting.
Istanbul has always held a special allure to me. The fascinating history, unique culture and world-class food are irresistible draws, and it was just a matter of time before Jürgen and I ended up here. We spent the weeks leading up to our trip dutifully reading about Istanbul and learning stock Turkish phrases (teşekkür ederim!), and I felt prepared. Confident, even! But once we arrived… once we had seen Istanbul's size and density first-hand, and could feel the enormous weight of its past… only then could we begin to understand how completely overmatched we were. Istanbul in 91 days? Please. We wouldn't even scratch the surface.
But that doesn't mean we wouldn't try. By the end of our three months, our fingernails were chipped, and our fingertips bruised and bleeding from all the frantic scratching at Istanbul's surface. We would meet some Turks, visit both the big sights and less well-known neighborhoods, eat a lot of incredible food, and learn about the city's complex history and vibrant present. It was going to be a busy 91 days.
–Rent An Apartment In Istanbul