The Bosphorus Villages of Arnavutköy and Bebek
They're side-by-side on the European shore of the Bosphorus Strait, but the towns of Arnavutköy and Bebek couldn't be further apart in spirit. One we loved, but the other we couldn't get away from soon enough.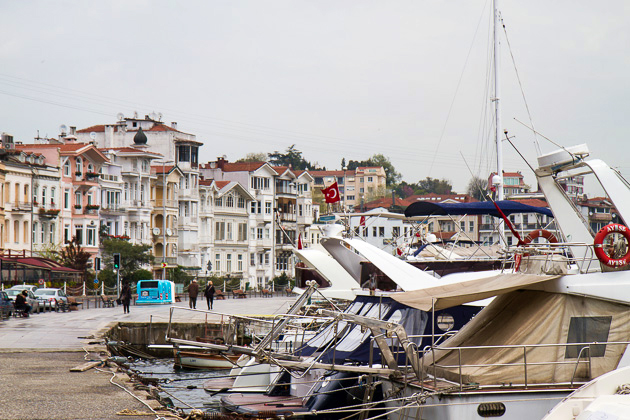 Arnavutköy and Bebek. One of you has the charm of a sleepy fishing village, with narrow alleys, affable residents and a peaceful seaside atmosphere. The other is an obnoxious mess of playboys tooling around in Porsches. One demonstrates the subdued and tasteful application of accumulated wealth, while the other flashes its bling like an insecure rapper. One is Katherine Hepburn, all easy grace and effortless beauty, and the other is Kim Kardashian.
Sorry, Bebek, but you're the loser in this pageant. From the moment we arrived, we took a disliking to this town, where an atmosphere of glitzy, egotistic chaos reigns. The streets are bumper-to-bumper with honking SUVs, and the sidewalks full of silicon-lipped lady jerks wobbling along in high heels. Getting down to the Bosphorus is almost impossible, as the shoreline is dominated by upscale restaurants and mansions. If you want to enjoy the water, expect to pony up for a ridiculously-priced cup of coffee. Clad in jeans and sneakers, we felt horribly out of place in this superficial town, and wanted to leave immediately after arriving.
Compared to Bebek (a name which translates to "Baby" by the way, in case you didn't think it could get more annoying), Arnavutköy is a breath of fresh air. There's money here, too, but you don't notice at first. Instead, you're lured in by the town's humble charms. With strong Armenian, Jewish and Greek heritage, and a name which translates to "Town of Albanians", Arnavutköy is proudly multicultural, and its winding streets are neither overly crowded nor empty. It's comfortable and fun. The yalıs along the shore are lovely. The boats anchored in the water, impressive. The restaurants, tempting. Prices, reasonable.
We were as thoroughly won over by Arnavutköy as we were repulsed by Bebek. Maybe if we'd visited them on different days, our opinions would have been different. But based on our experience, if you only have time for one of the mid-Bosphorus European neighborhoods, the choice is clear.
Locations on our Map: Arnavutköy | Bebek